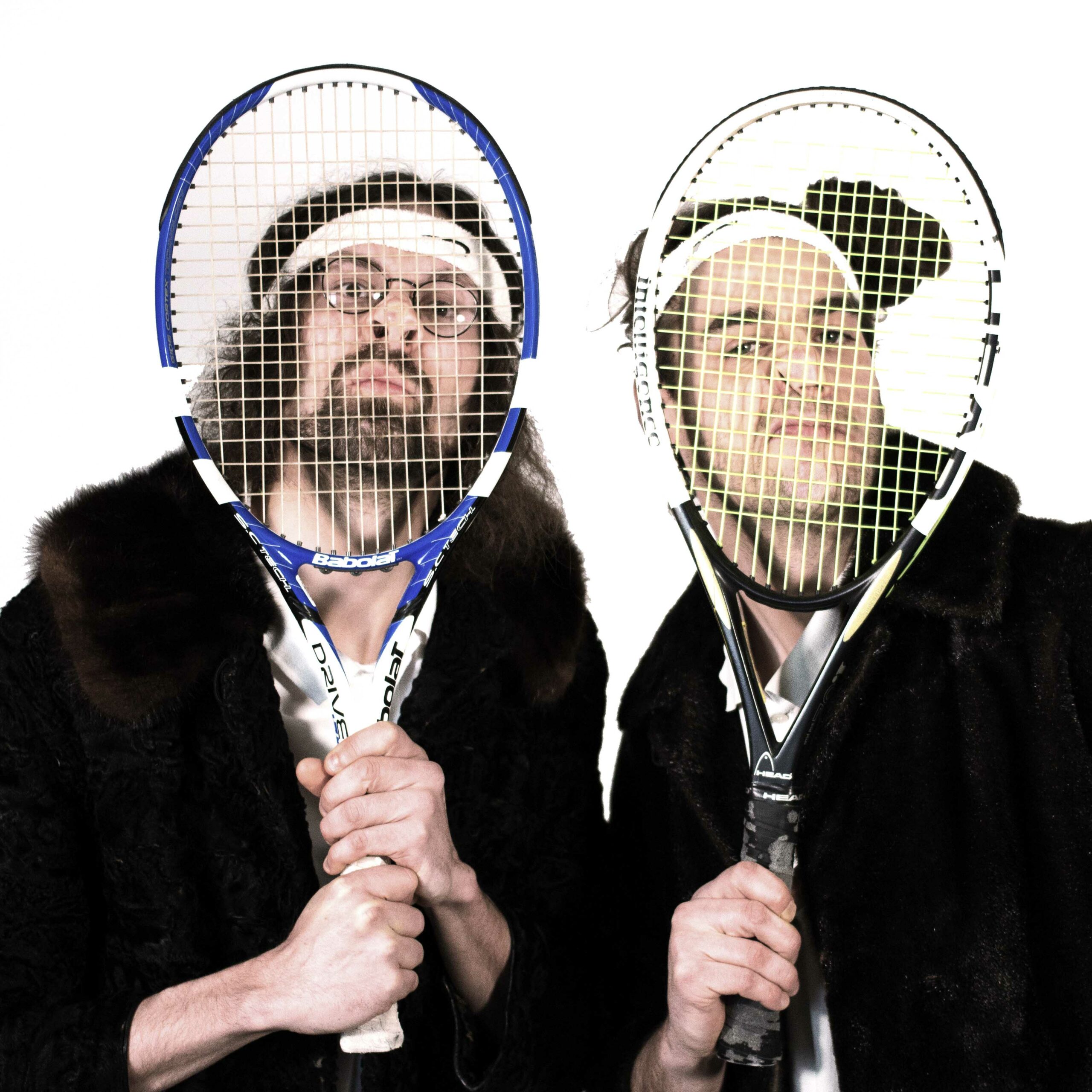 Concert | C.O.R.N! Teabaggin' the big apple
Image Credits: Mariya Donska
November 15 | 7pm
RSVP to: events@acfny.org or +1 (212) 319 5300
Wearing a mask throughout the event is recommended.
…is an abstract duo consisting of the two well-educated but supergrounded sound wizards Mykyta Prykhodchenko aka Nick Acorne (Electronics) and Patrick Wurzwallner (Drums).
…is visual, performative, organized, chaotic and interconnected (via LAN and soul).
…virtuously celebrates the spectacularity of Human Error in a controlled environment.
Explores.
Explodes.
Pops.
And shreds.
The artistic mission of C.O.R.N! is not based on purely self-representational, let alone hedonistic motifs. Refering to the John Cage-esque leitmotif that an audience should rather be laughing than crying, C.O.R.N! take the artistic position of a self-ironic musical meta-entity which strives to emulate and make use of demystifying and self-ironic staging. The visual coquetry with tennis serves, among other things, to visually and humorously counteract the complex and radical musical and compositional decisions and as a result – also while trying to uphold an educational premise – make it more approachable and easily accessible on a broader basis. Furthermore the allegory of sport as well as its established symbolisms do, like no other, serve the purpose of epitomizing the performativity, strong degree of interaction and consequently inherent spectacularity of the process of improvisational live sound generation.
Also: there is no shame in being catchy because controversy cannot exist without attention.
Thank you for yours.
C.O.R.N! performs a highly energetic live concert musicalizing the eclecticism of human emotion within the dystopian spheres of digital despair from Styria to the Big Apple.
Artist
Patrick Wurzwallner *1983 in Frankfurt am Main, living and working in Graz, Austria is a musician, wordsmith, curator, culture worker and popculture enthusiast, who can hit the drums hard (if he has to!). He does so in the current projects kreHm with Michael Laab (2017), C.O.R.N! with Mykyta Prykhodchenko aka Nick Acorne (2017), bitfuck with Christof Ressi (2018) as well as various other collaborations which have led him to share stages with countless namedroppable acts. He is currently hosting, curating and performing at several ongoing series of events in the cultural institutions ELEVATE and FORUM STADTPARK GRAZ with the main goal of solidizing and further establishing the local and regional improvisational music scene, as well as propagating a low-threshold approach towards the implementation of art in daily life. Besides his artistic work he provides services in the field of project-, hospitality- and production management for various cultural entities. He is also sometimes asked to write about people and music several nerdy journalistic outlets. Maybe he has reviewed YOUR album? Who knows? Good icebreakers for starting a conversation include space, scifi-dystopia, videogame music (<=16bit!) and memes.
Nick Acorne is a versatile sound artist, who works as composer, sound designer, interactive media artist and performer. Through his 15 years experience in the field of music he worked with variety of genres, sound languages and esthetics. Holding a degree in both classical composition, electronic composition and sound design, he combines very often  live recorded acoustic musical instruments with computer processed or generated electronic sounds. Playing himself piano he developed an impressive piano performance "Rubilovo". Working in the last 5 years in the field of interactive art he combines his composer proficiency with programming knowledge and creates together with colleagues interactive sound installations for museums, churches and festivals. Nick developed his own DIY sensor based instrument The Sensor Board, which he uses for live performances of Elektrichka Trio, as well as also for solo concerts.