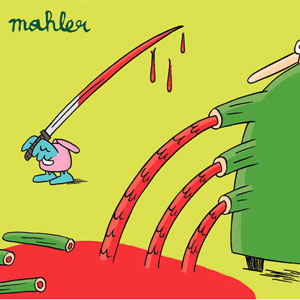 DRAWING THE LINE BETWEEN HIGH AND LOW ART | A CONVERSATION WITH CARTOONIST NICOLAS MAHLER
The Austrian Cultural Forum is pleased to present an evening with award-winning Austrian cartoonist and animator Nicolas Mahler who will discuss his books Angelman: Fallen Angel and Old Masters (Alte Meister). Angelman: Fallen Angel, the tragicomic story of a hapless super-hero told from his corporate creation to his very human demise, is about to be published in the United States. Created in 2010, it is Mahler's first book to be released in English in six years, and the first to be released by Fantagraphics Books, one of the foremost publishers of comics and graphic novels in the United States. Meanwhile, Nicolas Mahler has just released a graphic version of Thomas Bernhard's acclaimed 1985 satirical novel Old Masters: A Comedy.
How does Mahler reconcile a career that runs the gamut from the most exalted strata of high culture (an adaptation of a classic work by one of the most important German-speaking authors of the postwar era) to the murky backwaters of pop culture (a super-hero comic-book)? In a conversation with Austrian author and journalist JM Stim, Nicolas Mahler will tackle this and other subjects, discussing the creative process behind the two books, and exploring how the adaptation of a literary text into the seemingly lowbrow medium of comic-books might actually cast a valuable, even revelatory new light on the original work.

ABOUT THE PARTICIPANTS
Austrian author and illustrator Nicolas Mahler (born 1969) has illustrated numerous school books and worked on several animated films, shown at festivals throughout Europe. Known for his striking minimalist drawing style and sardonic deadpan wit, Mahler's graphic novels have been published in France, Spain, the Czech Republic, Poland, Canada, and the United States as well as his native Austria. He has published over 20 books and created drawings for international magazines, newspapers, and anthologies. Additionally, he has won awards such as the Max-und-Moritz Preis and Deutscher Karikaturpreis Together with Heinz Wolf and Rudi Klein he founded the Kabinett fuer Wort und Bild (Museumsquartier Wien). In the summer of 2009, he took part in a memorable event at the Austrian Cultural Forum with Mark Newgarden and Mark David Nevins, which explored the question "What is 'Funny'?" Mahler lives in Vienna.
For more information please visit >> http://www.mahlermuseum.at/

JM Stim (born Klaus Josef Stimeder, in 1975) is a New York-based writer and journalist. The former war correspondent and sportswriter founded and published the acclaimed political magazine DATUM and penned the seminal biography Despite everything, which covers the life of Austrian publishing legend Oscar Bronner. He recently published his new book Here is Berlin.
Image courtesy of Nicolas Mahler.
VENUE
ACFNY