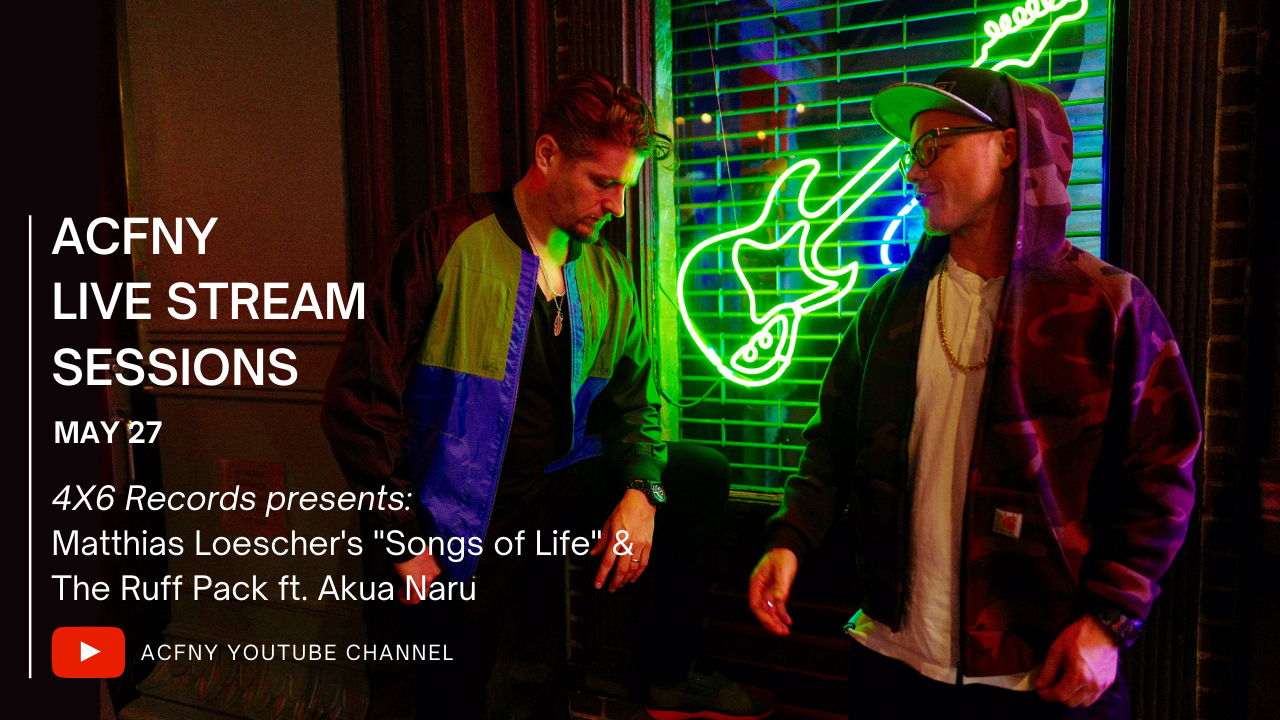 4X6 Records Presents: Matthias Loescher's "Songs of Life" Album Release
May 27, 2021 | In the third addition to the ACFNY Live Stream Sessions, join us on May 27 at 2 PM ET / 8 PM CET for a two-in-one performance.
1st LINE UP: MATTHIAS 'PEDALS' LOESCHER – SONGS OF LIFE
Kennedy: Vocals | Jonathan Hoard: Vocals | Matthias Loescher: Guitar, composition | YahZarah: Vocals
"Songs of Life" tells stories of everyday life- stories of love, fear, joy, sadness and beauty; stories that are part of our everyday existence as humans. The album marks a turning point in Loescher's career. While he previously exploited the benefits of contemporary studio productions in his releases, this project reaches back to pure music documentation without any additional production or edits in a studio setting. "Songs of Life" documents real-time moments without alteration.
As a native Austrian, Loescher was raised with classical music. Bach, Mozart and Schubert were ubiquitous throughout his childhood and left a deep imprint on his preference and affection for the "Lied". Both as a composer and guitarist, Matthias Loescher has a reputation of moving far beyond stylistic restrictions. Loescher's premise is good music – genre and style are of secondary importance in that regard. Parts of "Songs of Life" were premiered at the "Celebrate Austria" Week in Ottawa (Canada) with guest singer and Thelonious Monk Competition winner, Jazzmeia Horn. In 2016, the finished song cycle was recorded with guest singers Kennedy, Jay White and Jonathan Hoard.
POSTPONED – 2nd LINE UP: THE RUFF PACK FT. AKUA NARU
Akua Naru – Rap | Stephan Kondert – Bass | Matthias Loescher – Guitar | Sydney Driver – Drums
Brooklyn-based group THE RUFF PACK (TRP) blends together the improvisational nature and compositional complexity of Jazz with the rustic groove and frenetic energy of Hip-Hop.
With a record of hundreds of concerts spanning across continents and a star-studded list of features and collaborators (Lauyrn Hill, Christian Scott, Eric Benét, SK Invitational) combined, The Ruff Pack and Akua Naru are a sonic force to contend with.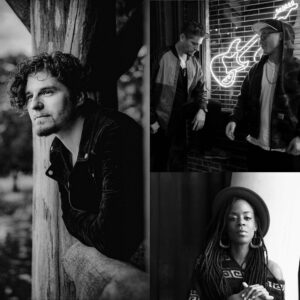 A titanic match that began seven years ago through a chance meeting in Brussels, Belgium, Naru & TRP have worked to collide progressive politics along a soundscape floating between Hip Hop and Jazz, throughout the course of several productions, including Naru's albums "The Miner's Canary, (2015) and The Blackest Joy (2018).
Outside the studio, TRP has performed throughout Europe and the USA, leaving audiences astonished by their infamous musical bravado, at times with Akua Naru as special guest.
Together, they are currently at work on a collaborative album, "The Black Magnificent", which is set for a Spring 2022 release, The forthcoming album speaks to their understandings of music as sonic activism: a call to action, a soothing balm during bleak and difficult times.
The 3/27 performance at the Austrian Cultural Forum NYC will offer a glimpse of music to come.
ABOUT THE MUSICIANS
Matthias 'Pedals' Loescher
Critically acclaimed and multi-award-winning guitarist Matthias 'Pedals' Loescher, works as a freelancing musician and composer and currently lives in New York City. He is featured on records and released seven albums as a leader/co-leader. His resume includes international concerts in clubs and festivals, TV and radio broadcasts, live studio recordings, and album productions.
Born in Salzburg, Austria, Loescher studied at the 'Anton Bruckner Privat University and at Purchase College as a Fulbright Scholar. He is a co-founding member with Stephan Kondert of THE RUFF PACK, a band that combines elements of Jazz and Hip Hop. They tour extensively in Europe and the USA and have produced several successful albums. Since 2016 Loescher has been touring and recording with Miss Lauryn Hill and has performed and/or collaborated with artists such as Nas, Busta Rhymes, Common, Seun Kuti, S.K. Invitational, Nuf Said, David Murray, Gregory Hutchinson, Lorenz Raab, Lee Hogans, Hamid Drake, Doug Wimbish, and many others. Matthias Loescher was awarded the prestigious Austrian 'Salzburger Jahresstipendium für Musik in 2011' prize.
Stephan SK Kondert
Born in Salzburg, Austria in 1981, Kondert studied Jazz at the Bruckner Universität in Linz but always had an affinity for hip-hop so his relocation to New York was a natural move. Over the past years, he has built up a large community of all-star musicians and artists in the city but has also kept a strong tie to his Austrian roots. His project SK Invitational, established over a decade ago, is the prime result of that creative synergy.
+++
Akua Naru is a Hip Hop artist, organizer, producer, activist, and scholar, whose work centers on social justice advocacy and community building. Her music, deeply nuanced, poetic and wise, theorizes the myriad experiences of Black women through rhyme along a sonic spectrum from Jazz to Soul. She is co-founder of the production/management company "The Urban Era" and, to date, has released four albums: "…the journey aflame (2011)", "Live & Aflame Sessions (2012)", "The Miner's Canary (2015)", and "The Blackest Joy (2018)"–alongside a wide range of additional artistic content.
She has recorded with Tony Allen, Eric Benét, Angelique Kidjo, Tuneyards, Questlove, Georgia Anne Muldrow, Christian Scott, Rah Digga, Mulatu Astatke, Bernard Purdie, Cody ChesnuTT, and more.
+++
Kennedy
Watch any performance of singer, songwriter, Kennedy, and you'll become a fan for life!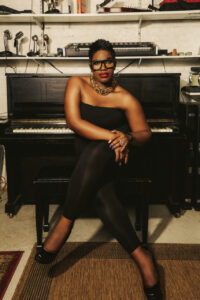 With incredible range, and a unique vocal texture you will wonder why you are only now hearing of this immense talent. An engulfing voice that is reminiscent of the past, yet youthful and charming Kennedy is one of New York's great talents. Hailing from the suburbs of Michigan, Kennedy made her arrival in NYC only a few years ago. Within that time and space, she has cultivated her own sound as band leader having a weekly residency in legendary Greenwich Village as the lead and frontwomen of her namesake, Kennedy Administration. Ms. Kennedy has been privileged to lend her brilliant talent to Revive Music's "Sarah Vaughn Clifford Brown" tribute performed at the Kennedy Center, Christian Aguilar's NBA All-Star performance, drum legend Jojo Mayer's drum technique DVD, Winter Jazz Fest with Ray Angry, Jeff "Tain" Watts, and James Genus to name a few! Kennedy and Kennedy Administration were honored to be open up for music legend Sir Elton John in the summer of 2018 at the Black Sea Arena, in Batumi, Georgia.
+++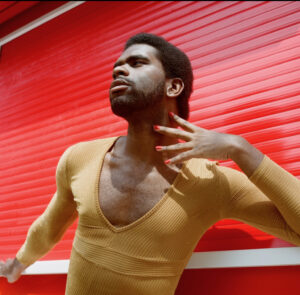 Jonathan 'J.' Hoard is a Brooklyn-based artist. In one performance you are given the core of the Black church and the allure of "The Great White Way" (Broadway). His original compositions and arrangements easily shift genre to articulate his vivid songwriting. This eclecticism has yielded collaborations with artists such as Black Coffee, Chance the Rapper, Brasstracks, and hip-hop royalty Jean Grae & Quelle Chris. Additionally, he has worked closely with a host of jazz/experimental artists such as Sonnymoon, Javier Santiago, Jose James TheLessonGK, and music legend Meshell Ndegeocello.
+++
Sydney Driver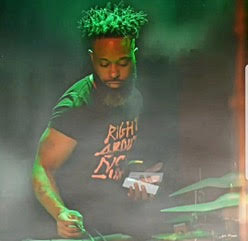 Playing drums professionally for 22 years. Born and raised in Brooklyn, NY. Learned to play in church, Under the teachings of Nathaniel Townsley III. He's currently 1/2 of the two-man band "Lex Sadlers Rhythm and Stealth", and also is the current drummer for Sly5thave, who runs a hip hop orchestra, "Club Casa Chamber Orchestra". He's toured with the likes of "Platinum Pied Pipers", "Blitz The Ambassador", "Sye Spence", "Gospel Jubilee", "79.5", "Walk Talk" and a few others. His strongest qualities are his timing, strong pocket. His strongest forms of music are Funk and live EDM. Lastly, he is also the current and acting CEO of a wedding music company named "Blue Avenue Groove".