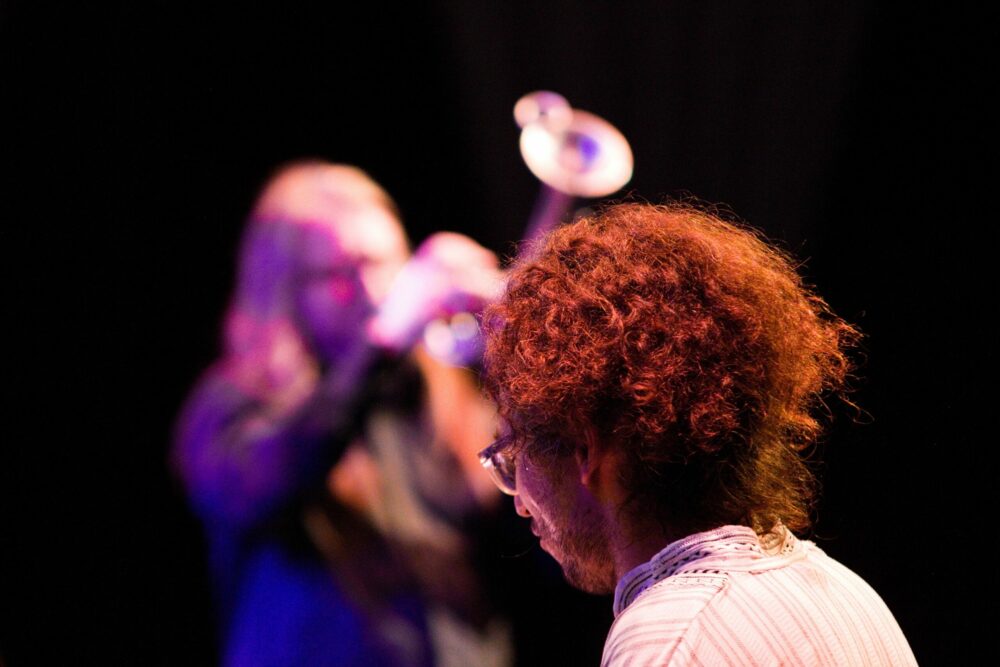 ACFNY Live Stream Sessions – Leo Genovese & Franz Hackl Duo Feat. Special Guest Elisabeth Lohninger
This duo is innovative, unpredictable, and adventurous. The joy of being in the moment has a contagious effect on the audience.
We proudly present to you the ACFNY Live Stream Sessions. Every month we will be hosting a live stream concert with some wonderful Austrian American collaborations for you to enjoy "on the go".
Leo and Franz create unique musical statements on any material, ultimately making any song their own. It doesn't matter if it's their original compositions, baroque music, jazz standards, folk tunes, or rock. Their personal musical signature is always present and propels their artistic exchanges. No matter how complex or simple the material is, whether it's catchy hooks, complex forms & harmonies, jams, their intimate dialogues always keep it inspiring. As soon as you think you know what is coming, you will be surprised again. Dreamy, lush melodies, percussive sounds of the piano and trumpet, and virtuoso playing are equally important. They quote Jimi Hendrix, Miles, Austrian Folk tunes, and Baroque masters. These become building blocks of their very own musical voice.
An essential part of the sound is that Franz builds his own horns together with his father. Growing up with the horns, the use of trumpet, flügelhorn, and piccolo trumpet, which is rarely heard in a jazz context, and the fantastic touch Leo has on the piano gives you various sonic textures and colors way beyond what you would expect from an acoustic duo.
Get ready for a full-spirited exchange of musical ideas.
ABOUT THE MUSICIANS
Franz Hackl is an internationally touring trumpet soloist in jazz, crossover projects, and contemporary classical music. He is an accomplished composer of large-scale works with many commissioned compositions by international music festivals and ensembles. As founder and artistic director of the Outreach Music Festival and Outreach Academy, founded in 1993 and in demand as a producer, Franz is known for creating special music events for unique places (UN Headquarters New York, Hannibal Sölden, Hangar 7).
Franz, together with his father as a brass instrument maker, continuously improves upon both the design and build of their product, making them one of the world's elite brass instrument manufacturers.
WEBSITE | FACEBOOK | INSTAGRAM
+++
Leo Genovese, born in Venado Tuerto, Argentina, in 1979, began playing the piano at the age of 5. His first album, Haiku II, was released in 2002 and was followed by Unlocked in 2008. From 2005, he toured internationally and recorded with bassist and vocalist Esperanza Spalding.
A reviewer for The New York Times commented on Genovese's 2013 album, Seeds, that "by refusing to privilege one historical style over another, he strengthens his claim as a polyglot." Down Beat observed that Genovese's compositions for the album "share an exploratory nature, whether the new terrain in question is a marriage of electronic and acoustic sounds, an unlikely use of chromatic scaling or the successful juxtaposition of otherwise disparate ideas."
Leo is most known for his work with The Spring Quartet (Jack DeJohnette, Joe Lovano, Esperanza Spalding & Leo Genovese)
FACEBOOK | SOUNDCLOUD | INSTAGRAM
+++
Elisabeth Lohninger is an internationally touring jazz vocalist, author and educator. She has released thirteen albums to date plus a how-to book for singers titled "Singer's Survival Guide to Touring". Originally from Austria, Elisabeth has lived in New York since 1996. Her latest CD is called "Life Lines".
WEBSITE | FACEBOOK | INSTAGRAM
Image credit: Florian Reider / Outreach, Josef Leitner