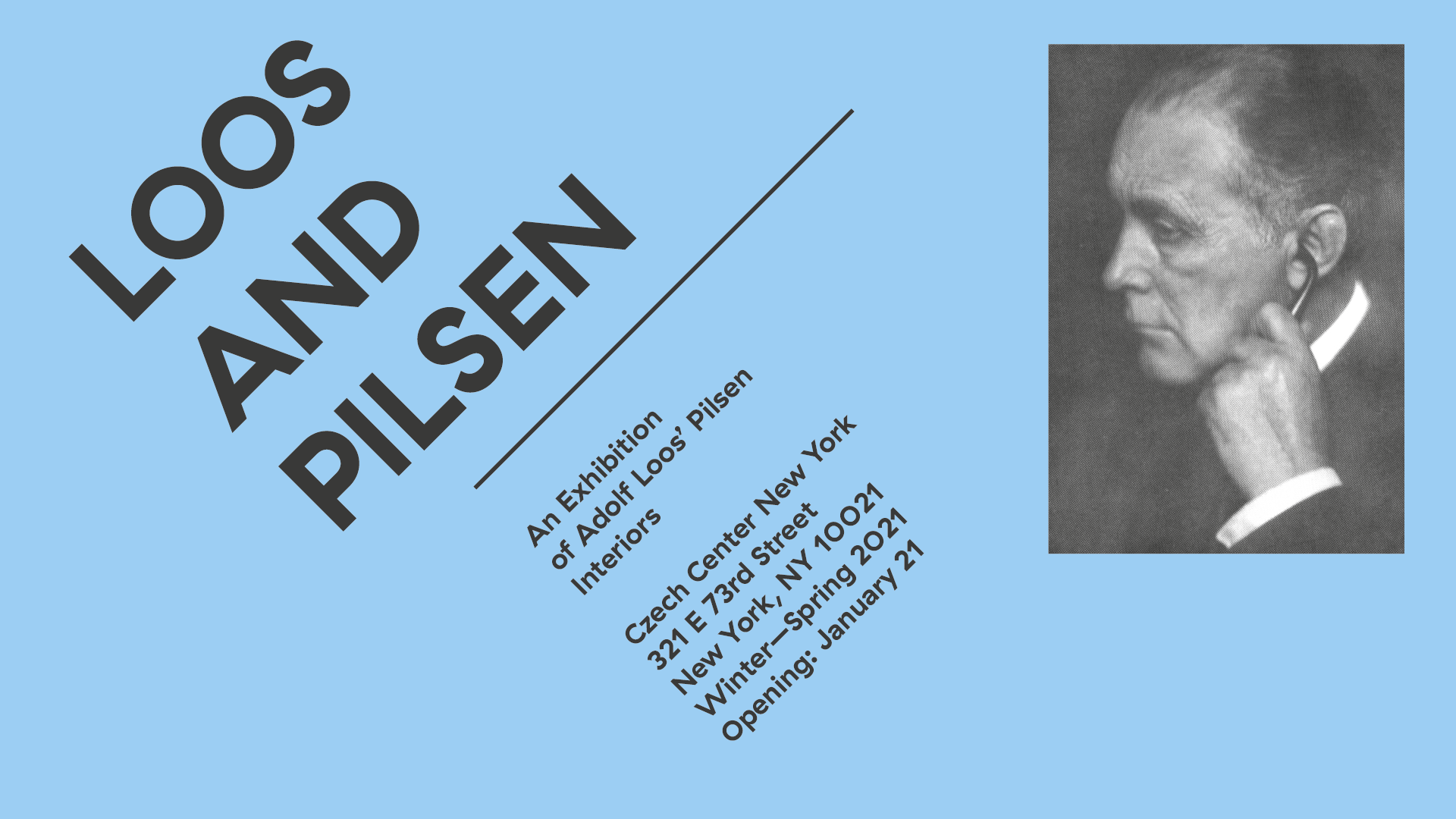 ACFNY SUPPORTED | LOOS AND PILSEN
The Austrian Cultural Forum New York is honored to support the Czech Center New York to introduce a multi-media exhibition aiming to present Adolf Loos' unique interior design work as a result of the architect's long-term activity in Pilsen, Czech Republic. The project was initiated in 2020, marking the 150th anniversary of the birth of Adolf Loos (1870–1933), a world-renowned epitome of the modern interwar architecture of Moravian descent, whose ideas and implementations influenced contemporary architecture and inspired later events and trends in contemporary architecture on an international scale.
The exhibition focuses on Loos' work in Pilsen in a wider context: the circumstances of the origin of the first designs after 1907 and the crucial role of the extended Hirsch and Beck families and their connection to Vienna; the architect's return to Pilsen in 1927 and work for the Brummel and Semler families, as well as for the Vogls, Krauses and numerous other investors. The exhibition also includes an account of the respective families' and flats' fates from 1939 to the current reconstructions and opening up of several of the flats and established cooperation with several of the families now living in Australia, Great Britain and the USA.
Adolf Loos was significantly influenced by his visit to the United States. During his three-year stay (1893–1896), Loos earned his living by manual labor. He studied the style of Louis Sullivan, a significant representative of the Chicago school. The unsuccessful proposal of the Chicago Tribune building remains his most important work related to the American continent. His design, reminiscent of a Doric column, inspired the Postmodernists by the usage of metaphors and historical motives. After returning from the U.S., Loos used some elements of American houses in his work, such as a lounge area with a fireplace and beamed ceiling.
Exhibition Opening: Loos And Pilsen – January 21, 7 pm ET
Online Concert: Pilsner Jazz Band live from Loos' interior in Pilsen – February 26, 8pm ET
Online Conference: Adolf Loos: In Search of Space for Modern Life – March 4, 2pm ET
Image Credit: Czech Center New York
VENUE
Czech Center New York