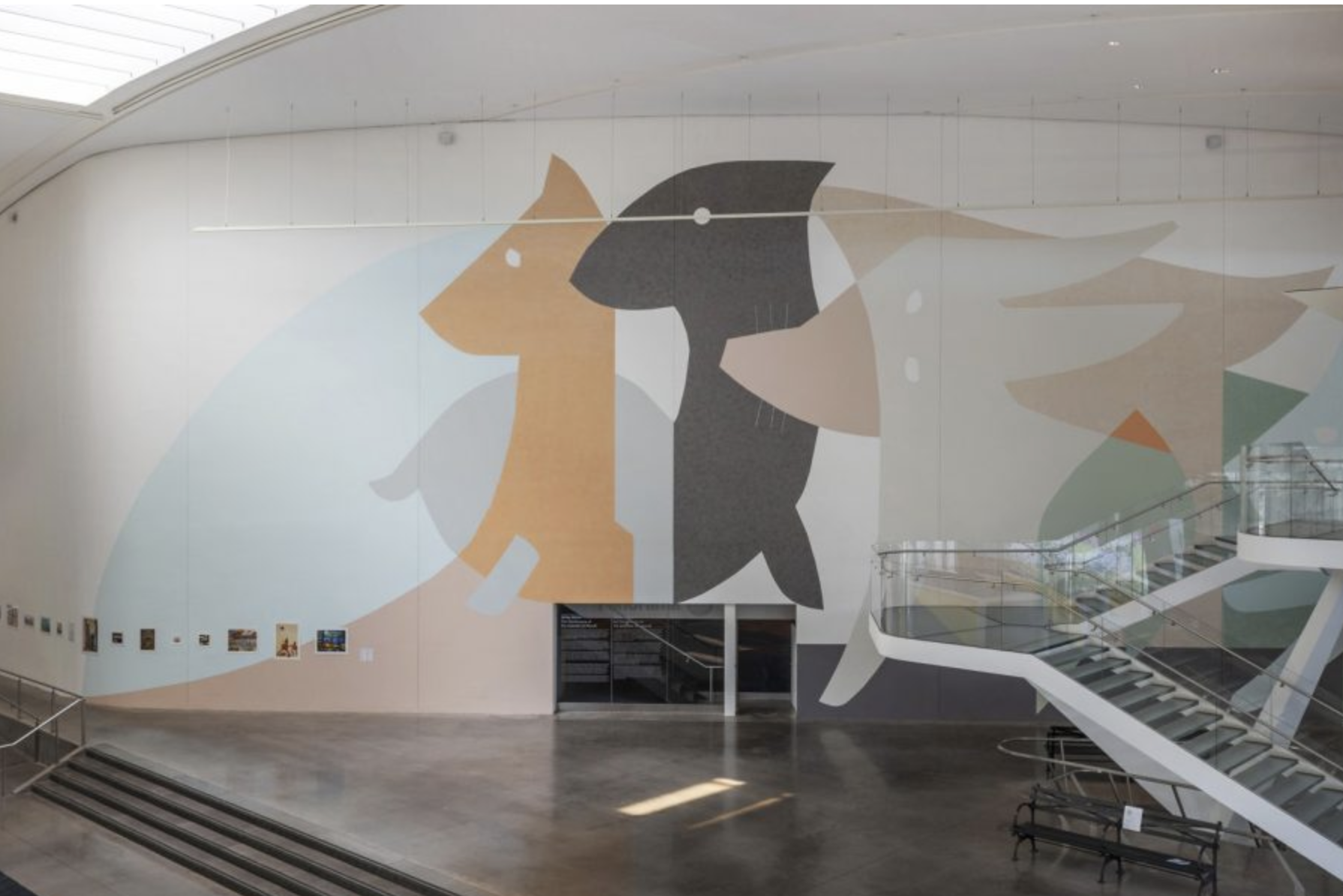 ACFNY SUPPORTED | Ulrike Müller and Amy Zion: The Conference of the Animals
Through January 16, 2022 | Now extended to January 16, 2022, Queen Museum's The Conference of the Animals consists of a mural by Austrian artist Ulrike Müller and an exhibition of children's drawings by independent curator Amy Zion. This project takes its title from German writer Erich Kästner's children's book The Animal's Conference (1949) written in the aftermath of World War II. The story is a political satire about a group of animals who, frustrated by the inefficacy of human international conferences, convene to save the planet.
As a painter, Müller's seemingly abstract vocabulary of colors and shapes is emotionally and politically charged and encourages figurative readings. In past installations, Müller has used colored walls to act as backdrops for her enamel paintings, woven wool rugs, and works on paper. In The Conference of the Animals (A Mural), she foregrounds the painted wall with giant animal-like shapes. Their muted palette and monumental scale draw on histories of public art and muralism before and after World War II.
While working on her proposal for the mural and thinking about the psychology of scale, Müller became interested in drawings by children—small people processing big events, ideas, and spaces—as an extension of her work. She invited curator Amy Zion to realize an exhibition in the adjoining gallery. Both the exhibition and mural are site-specific projects that hug the 45-foot-high wall that encircles The Panorama of the City of New York and refer to the building's history as host to the United Nations from 1946-50.
The Conference of the Animals (An Exhibition of Children's Drawings), includes works by children from 1900 to today selected for their period-specific details and treatment of scale and perspective. Art by children has played a role in modernist art history, used by artists as inspiration to help make sense of a world gone awry after the world wars. It has also played a role in international diplomacy, in which drawings and letters by children have been used to lobby for aid. The works here range from the childhood output of established artists to named and anonymous works of non-professional artists of various training and ability. A significant portion of the works are on loan from the Children's Museum of Art.
Visit the Queens Museum website to learn more and schedule your visit.
Image credit: Hai Zhang
VENUE
Queens Museum