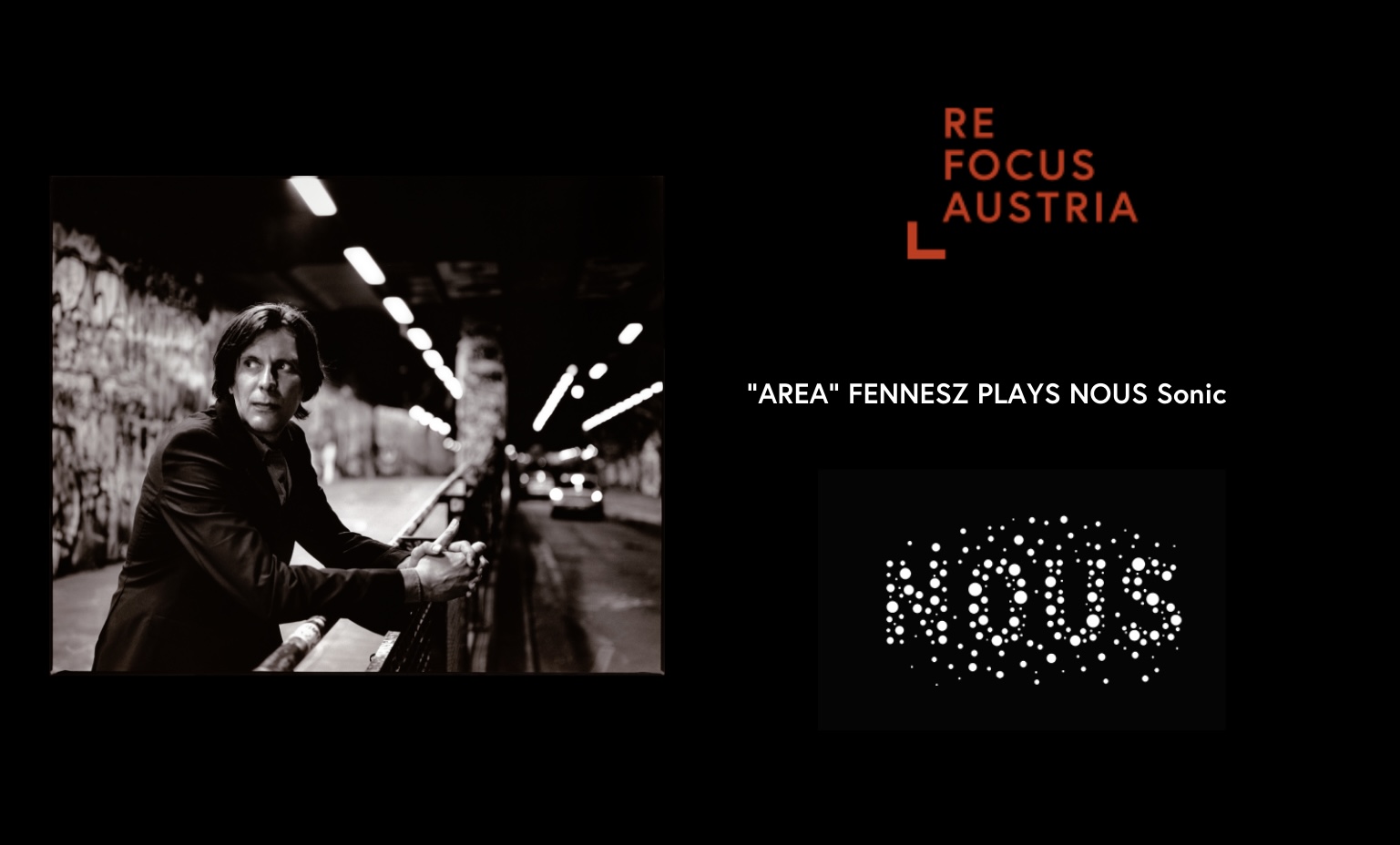 A ReFocus Austria Event: "AREA" – FENNESZ PLAYS NOUS SONIC
Image Credits Fennesz: Kevin Westenberg
November 22 | 7 pm
Please RSVP here.
Wearing a mask throughout the event is recommended.
This event will take place within the framework of the ReFocus Austria Initiative.
About ReFocus Austria

ReFocus Austria is an ongoing campaign of the Austrian government to support and rebuild the Austrian economy across the globe while the world emerges from the pandemic. It is carried out by the Austrian Ministry for European and International Affairs in cooperation with the Austrian Chamber of Commerce's international offices, the Austrian National Tourist Office, and representatives of other federal ministries to open doors for Austrian companies abroad, and to secure and create jobs and investment in Austria itself. The campaign focuses on the core pillars upon which Austria's economy will be built in the future: renewable energy, e-mobility, sustainability, digital transformation, infrastructure, urban technology, and tourism. All over the world, the "Made in Austria" label is synonymous with quality and reliability, as well as world-class design, engineering, and craftsmanship.
Summary
See the nexus between Culture, Music, Innovation and Business unfold at our event:
We will have a conversation about the use of an innovative Austrian tech-product, namely NOUS Sonic. NOUS Sonic is a very precise indoor-locating-headphone-system, originally developed for museum-purposes, that can be used for a unique augmented listening experience. And that's what's going to happen after the talk. You can witness the Theater of the Austrian Cultural Forum New York transforming into a music studio in which the well-known Austrian electronic musician Christian Fennesz will launch an interactive sound installation that can be individually experienced with the NOUS Sonic headphones.
About the Event
The Opening Event will have two segments, A – Panel Talk and B – Augmented Listening
A. Panel Talk – "Challenging the visual paradigm"
The panel will discuss comparisons of visual and auditory augmentation: Fundamental to the approach of designing sound for spaces is the understanding that sound affects visitors beyond their consciousness and listening has been an underestimated part of the visitor experience. This can range from the use of ambient soundscapes to enhance immersion and mood to a significant and consequent use for knowledge transfer. Sound offers a great chance to enhance the relation between the visitor and the artwork and to deliver projects with the audience (instead of for them). This is by emphasizing the assumption of less artwork but more augmented multisensory experience. Today a variety of 3D audio technologies exist such as Wave Field Synthesis, Ambisonics, Auro-3D or Dolby Atmos. All have in common that their ability to simulate a soundscape via loudspeakers can be decoupled from the architectural room itself. Multichannel loudspeaker arrangements in museums are mostly accompanied by the physical limits of sound wave propagation resulting in a diffuse mix of various sound sources. In comparison, the headphone-based technology brings the opportunity to divide any space in virtual acoustic subspaces. By moving through space, visitors hear different sonic environments according to the narrative and composition designed on the creative side.
About the Panelists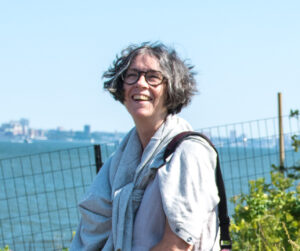 Carol Parkinson is the Executive Director of Harvestworks, the digital media arts center located in New York City. Since 1987, her focus has been on the development of experimental artworks that explore sound, data and other emerging technologies. Parkinson's professional services include panel participation at the New York Foundation for the Arts, the New York State Council on the Arts, and the National Endowment for the Arts. Parkinson is the Executive Producer of the New York Electronic Art Festival, a series of workshops, concert performances and exhibitions centered on art and technology. Parkinson is a founding member of TELLUS, the Audio Cassette Magazine, a cassette –based magazine of experimental music and sound art published between 1982 – 1996. Image Credit: Harvestworks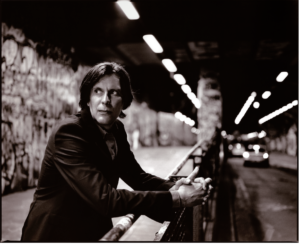 Christian Fennesz is a composer, musician and producer. He uses guitar and computer to create electronic sound of outstanding range and complex musicality: "Imagine the electric guitar severed from cliché and all of its physical limitations, shaping a bold new musical language." (City Newspaper, USA). His compositions are anything but sterile computer experiments: They resemble sensitive, telescopic recordings of natural atmospheric occurrences, an inherent naturalism permeating each piece. Since more than 20 years, Fennesz tours all over the world, including concerts at Carnegie Hall (New York City), Fuji Rock (Naeba, Japan), Wiener Konzerthaus (Vienna), Olympia (Paris), Ars Electronica (Linz), Queen Elisabeth Hall (London), Wiener Festwochen (Vienna), Sonar (Barcelona), Roma Europa (Rome), Oslo Opera. Fennesz has collaborated with Ryuichi Sakamoto, Yellow Magic Orchestra, David Sylvian, Peter Rehberg, Jim O´Rourke, Sparklehorse, Mike Patton, Keith Rowe, Arto Lindsay, Ulver, Klangforum Wien, Barcelona. Image Credit: Kevin Westenberg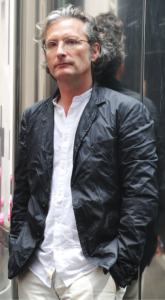 Gunther Reisinger is developing and directing projects in the field of digital transformation of cultural institutions and museums at NOUSdigital (Vienna / Denver / Abu Dhabi / Berlin). NOUS develops new digital solutions for the Louvre Abu Dhabi, Humboldt Forum Berlin, Fondation Beyeler or Jewish Museum Berlin. As habilitated art historian with strong focus on digital media, he has been working for many years on both the theoretical and the practical level concerning the "digital source" and related interactions of digital innovation (e.g. NOUS Sonic) with museological and art-historical methodology. Image Credit: Reisinger
B. Augmented Listening
"AREA": The well known Austrian electronic musician Christian Fennesz composed an interactive piece of electronic music, which is individually perceived by the audience, using the world new system NOUS Sonic. By moving and viewing around (move- and gaze sensitive system) within an empty, darkened room at the Theater of the ACFNY, each listening participant is individually creating its own audio- experience, mixing Fennesz' music by individual movements and views, hearing it exclusively in realtime via headphone.
Interactive multi-channel installation
NOUS Sonic is specially designed to bring the audience' experience to a strongly immersive level: Fennesz composed a multi-channel-piece, using electronic sounds, field recordings and effect-tracks. With the NOUS Sonic Configurator, those tracks will be virtually located by Fennesz within the ACFNY Theater: The audience is moving and viewing within those areas and is thereby creating and hearing individually re-mixed and real-time-processed audio via headphone:
High-End electronic music from Austria meets high-end technology from Austria
Innovation and audience engagement
Audience participation (individually life-re-mixing)
Engage the space/audience – individually immersive experience
Based on Fennesz' composition, the ACFNY-Theater turns into a studio setting: The audience is individually exploring the composition as well as the artists' audio-allocations within the Theater: The technology provided by NOUSdigital allows to refer directly to the room-setting of the ACFNY-Theater, the 3D-areas defined by Fennesz will correspond to spatial specifications:
Directly engaging the audience (individually live re-mixing by moving and viewing)
Referencing the Theater of ACFNY (by location-specific defining the different sound-areas)
About NOUS Sonic Headphones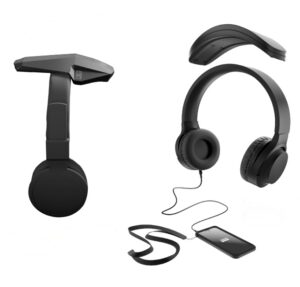 The headphones are the visitors tool for the auditory experience, they allow excellent sound quality and accurate high speed indoor positioning. A lightweight clip on/clip off module is specially designed to fit on a wide range of headphones including three different options: On- Ear, Over-Ear and Off-Ear which ensures visitors not to be isolated from the surroundings. The NOUS Sonic sensor module weighs less than 100 g and is covered by fabric that's easily replaceable & washable. While the navigation electronic is always on top of the headphone, the sound is rendered in a mobile device like an iPod touch. Image Credit: NOUS Sonic
This event is a cooperation between NOUSdigital Vienna and the Austrian Cultural Forum New York within the framework of ReFocus Austria.