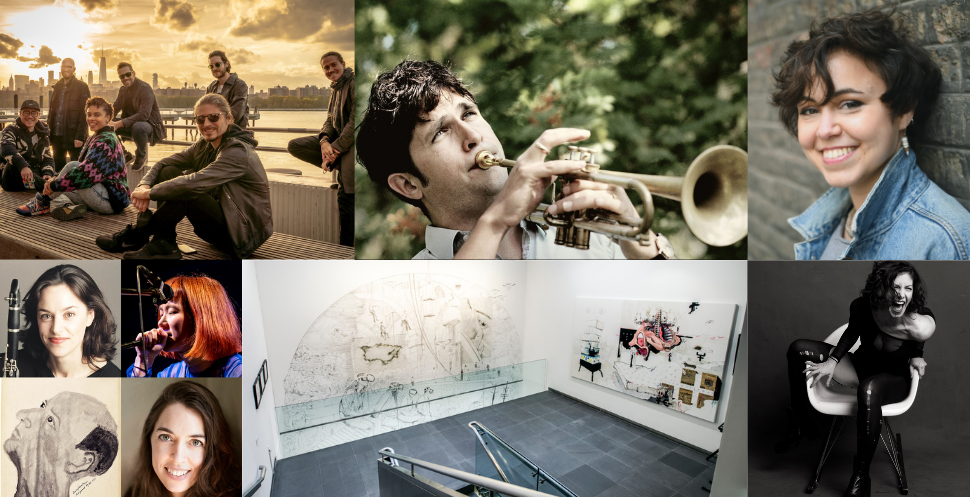 BEST OF 2020
Despite the challenges we've all faced this past year, we were able to continuously host a diverse programming in 2020.
We are grateful to have worked with such talented artists and amazing project partners and every project was special in its own way, often due to its interdisciplinary and transborder nature.
Please enjoy a selected list of just some of the many incredible projects that we hosted and presented at the ACFNY in 2020.
To take a closer look at all of the projects of 2020, please visit www.acfny.org/calendar
Curated by California-based architects and professors Stephen Phillips and Axel Schmitzberger, this exhibition explored the cultural contributions of Austrian-American architects since the modernist period. Framed into five categories commensurate with the five levels in our gallery-space – Primitive Domains, Aggregate Families, Urban Terrestrials, Cloud Natures, and Media Atmospheres – Resident Alien investigated the concept of bicultural heritage and its construction in the global spaces of the in-between, alongside other formal, technological, atmospheric, and psychoanalytic architectural dialogues. On display from September 2019 to February 17, 2020, the show examined the significant innovations and impact Austrian-American architects had on modern, postmodern, deconstructivist, digital, and post-digital design culture over the past century in the United States. And it certainly contained artworks by Raimund Abraham, the famous architect of our iconic building.
+++
Ely Jacques Kahn- A New York Architect Standing the Test of Time
In the framework of the Resident Alien architecture exhibition, it was an honor to present the life and story of Ely Jacques Kahn, one of the architectural fathers of the New York skyline. Back in February, together with the American Friends of the Jewish Museum in Hohenems, we first presented a documentary film by Ingrid Bertel and Nikolai Dörler who retraced Ely Jacques Kahn's unique journey from his family roots in Hohenems, Austria, to his studies at Columbia University and the École des Beaux Arts in Paris, and finally to his accomplishments in New York City, which remain stunning to this day. Following a musical performance sponsored by the New York Opera Society, the full house audience enjoyed an inspiring conversation between Ely Jacques Kahn III, the architects, grandson, and Hanno Loewy, the Director of the Jewish Museum in Hohenems.
+++
Roman Grinberg is a Vienna based artist who devotes himself to the Yiddish language and Jewish music with exceptional passion. Deeply rooted in the music of his ancestors, the artist, congenially complemented by his partner Sasha Danilov, performed new, contemporary arrangements of popular and well-known music, but also his own compositions of Yiddish songs and Klezmer music. This was the last in-house event in March, in front of a live audience, before we had to close our doors for the remainder of the year due to the COVID-19 pandemic and the restrictions and lockdown that came with it.
+++
Using excerpts from Viktor Frankl's work, in this Sea Dog Theater production, the US-Austrian actor Christopher Domig combines reflections from his own life and audience interactions to create a powerful performance centered around the core tenets of logotherapy and the seminal question: How do we live and create a meaningful life in a world of chaos? A timely contribution to the challenges posed by a global pandemic, the podcast was downloaded over 2,500 times and contained a talks series between Christopher Domig and Viktor Frankl's grandson, Alexander Vesely, which includes a total of three episodes.
+++
Anna Goldenberg's Versteckte Jahre (Zsolnay, 2018) was published as I BELONG TO VIENNA in Alta Price's translation in June 2020 by New Vessel Press. On our website, you will find a video excerpt from this probing memoir of heroism, resilience, identity and belonging. An ACFNY-commissioned audio conversation with Anna Goldenberg and Alta Price has been archived as a podcast episode on the Women in Translation series page on Trafika Europe Radio and was the ACFNY's contribution to last year's online version of the European Literature Days in New York .
+++
Freedom Will Have Been an Episode
From March to September 2020, the ACFNY presented the exhibition "Freedom Will Have Been An Episode." Developed in cooperation with Universalmuseum Joanneum, the group show, despite its timely launch right before the beginning of the lockdown, did not intend to proclaim the end of freedom, but rather meant to contemplate the creeping social upheaval that had taken place in recent years. Following in the footsteps of pioneering Austrian painter, performance artist, experimental filmmaker, and writer Günter Brus (*1938), four emerging artists and collectives from Austria developed new site-specific installations that engaged with what freedom means today in art and society. Watch the virtual gallery tour below:
+++
"This project proved once again that artists are our visionary guides to the future – in particular in times of crisis. The artworks that have been created are stories of resilience, positivity and community building and give us hope for the times ahead"
Martin Weiss, Ambassador of Austria to the United States and one of the co-organizers about a joint project which we co-presented in June with our colleagues at the Austrian Embassy and the Austrian Cultural Forum in DC, the Consulate General in L.A., as well as Open Austria, Austria's science, culture, and technology gate into Silicon Valley and the San Francisco Bay Area.
More information: www.noplacelikethefuture.org.
+++
Originally planned as an in-house concert at the ACFNY, Vienna-based composer & vocalist Scharmien Zandi (piano/vocal) recorded three songs of her avant-garde show AMOUR FOU at the Galerie Modena Art, accompanied by NYC-based Austrian artist Lukas Gabric (saxophone) to give you a little taste of her program. Scharmien Zandi was awarded the Austrian Musictheaterprize Best Off-Production Award at the Salzburg Festival 2020 for AMOUR FOU. Congratulations, Scharmien!
Watch the online performance below:
+++
By late spring, there was a rich offer of online concerts from empty concert halls and living rooms. This Berlin-based ensemble chose an alternative. Inspired by the sounds and fresh atmosphere of the forest, the Richard Koch Quartett travels into the woods to perform a one-shot show with songs from their two albums: WALD and STADT. They talk about how nature can inspire musicians to take part in a significant shift in the worldwide crisis we are facing today.
Join the Richard Koch Quartett in the woods below:
+++
Borrowing the zip code from both the Empire State Building and New York City's Central Post Office, "10001," an interdisciplinary collaborative project amongst members of the European Union National Institutes of Culture (EUNIC) in New York, focused on the collaboration of strangers and the narrative of their collective creative process using New York City as the linchpin. Coming from a variety of disciplines, twelve European artists, who had never met each other before, including Austrian artists Luisa Muhr and Nicola Ginzel, were randomly paired, making up a total of six teams. On September 11th, these teams held a live virtual project unveiling. Click here to watch the unveiling and visit 10001.undercurrent.nyc to learn more about each team's final projects. And stay tuned for the second edition, "10002" to be launched soon and which will be presented in the spring of 2021!
10001 was one of several EUNIC cluster New York initiatives the ACFNY was involved in last year, which stood under the Presidency of our Director Michael Haider.
+++
My Song For You – Marta Eggerth & Jan Kiepura
On October 20th, a live-streamed opening ceremony of "My Song For You – Marta Eggerth and Jan Kiepura" took place at the University of Music and Performance in Vienna and – virtually at the same time – at the Austrian Cultural Forum in New York. This exhibition honors the stage and film careers of the dream couple Marta Eggerth and Jan Kiepura, who together escaped Nazi-occupied Austria in 1939 to create a musical legacy that would revolutionize opera and operetta. The event featured statements from Wolfgang Sobotka, the President of the Austrian Parliament, Ulrike Sych, the President of University of Music and Performance in Vienna, Gerold Gruber, founder of exil.arte, and curator Susanne Korbel. Online in New York, Marjan Kiepura, Marta Eggerth's and Jan Kiepura's son, and his wife Jane Knox- Kiepura shared their experience in conversation with the with the renowned opera expert Ken Benson. Ramon Vargas of the Vienna Staatsoper, one of the world's leading tenors, performed in honor of Marta Eggerth and Jan Kiepura. A full virtual exhibition tour by Dr. Ulrike Anton is available, and the opening ceremony can be watched at this ACFNY YouTube Link.
+++
As our contribution to the anniversary events dedicated to Ludwig van Beethoven's 250th Birthday, Jörg Ulrich Krah (cello) and Bernhard Parz (piano) presented Beethoven's sonatas for cello and piano, contrasted by Georg Katzer's "Postscripta to B". With their interpretation the musicians set new accents and showed both Beethoven's modernity and his different approaches in the different periods of his creative work. The video enables listening pleasure at home even after the Anniversary, and is available on the ACFNY YouTube Channel linked below.