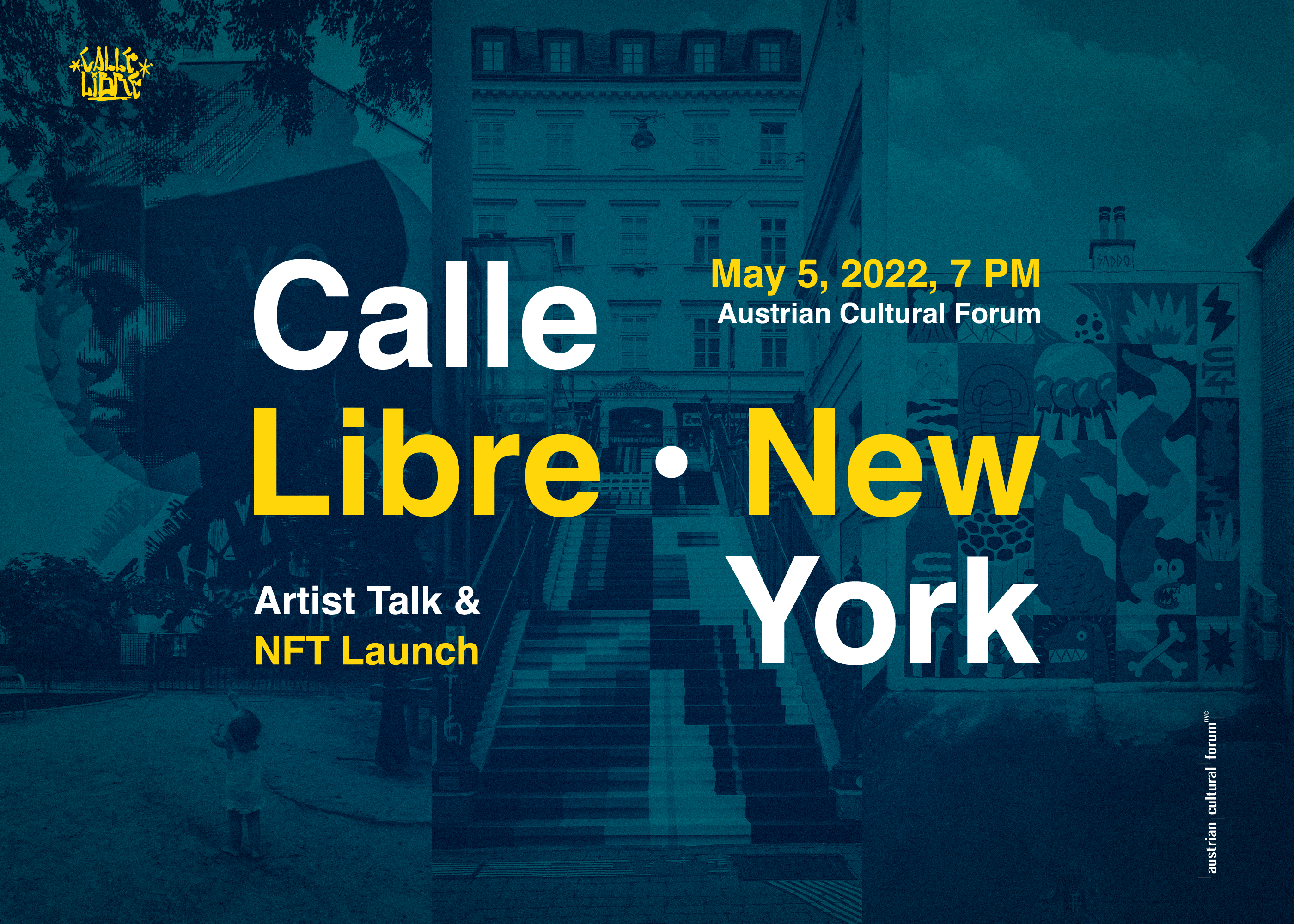 Calle Libre goes New York
MAY 05 | 7 PM
Founded in 2014, Calle Libre is a festival for urban aesthetics that brings together today's contemporary forms of graffiti and other forms of street art onto curated walls throughout the city of Vienna, Austria. This year, they are bringing their festival to Washington, DC. In this international project, the Austrian artists Boicut and David Leitner will work with American artists Jay F. Coleman, Maria Miller and Edith Lopez-Estrada on creating a colorful mural in the heart of Dupont Circle. The goal is to promote intercultural cooperation between international street artists, and to establish a dialogue with the public.
In the framework of the artists´ US visit and bilateral exchanges, the Austrian Cultural Forum New York will host an Artist Talk providing the artists with the opportunity to share their experiences during the development process of the project to a New York audience. In addition, the artists will present selected works and projects from their respective portfolios, including Calle Libre´s first NFT project "WorldWideWalls" which will be discussed by its artistic director Dr. Jakob Kattner.
About Boicut
The Austrian artist lives and works in the heart of Austria's capital, Vienna. Boicut's work is for the most part illustrative, combining lines and shapes. His work is inspired by everyday mundane things, pop culture and the urban street art scene. What is particularly important to him in life is that his work remains authentic and true to himself.
To date, his work has been presented in Berlin, Belgrade, London, Luxembourg, Miami, Munich and his home base in Vienna. He has also worked with brands such as Nitro Snowboards, Bene, Absolute, Jameson, Remington, Vans, Paul Frank, Levis, KangaRoos, Hennessy, Samsung and Converse.
Boicut is currently designing an 8000 sq-feet floor mural at Macombs Street/ University Avenue, New York (Bronx) in May 2022 and will discuss this project at the artist talk.
About David Leitner
David Leitner is a visual artist from Austria, he currently lives and works in Vienna and has prodcued his first short film `OBSERVER´. The 20,22 minutes long short movie, shot on an HI8 Tape Camera, takes the viewer to Austria´s second biggest city, Graz. Rooted in the "Griesviertel", the "Atelier-Haus Schaumbad" provides over 20 artists with studio spaces. Being raised in Graz, the artist has a long lasting connection to some of the local artists and the placee. During March 2022, he spent a month in Graz, experimenting and creating a new body of work and started painting on insulation boards, the motifs being inspired by his surrounding. Later on, the boards were reduced and sculpted with heat. In ´OBSERVER´, the artist captures the evolvement of a painting, the atmosphere of a place between a power station and an animal processing plant, and showcases the creative scene in a city, that from the artists´ past experiences has struggled to nurture creative processes.
About: WorldWideWalls
The platform WorldWideWalls – short form: WWWalls – in collaboration with Calle Libre opens up new perspectives for street art mking it collectible for fans and art enthusiasts. Using blockchain technology and a "Street Art Time Machine", the spectrum of street art culture expands and conquers the digital world.
TICKETS
Free admission – RSVP required. To RSVP, please email events@acfny.org with your name and number of tickets you would like to reserve!