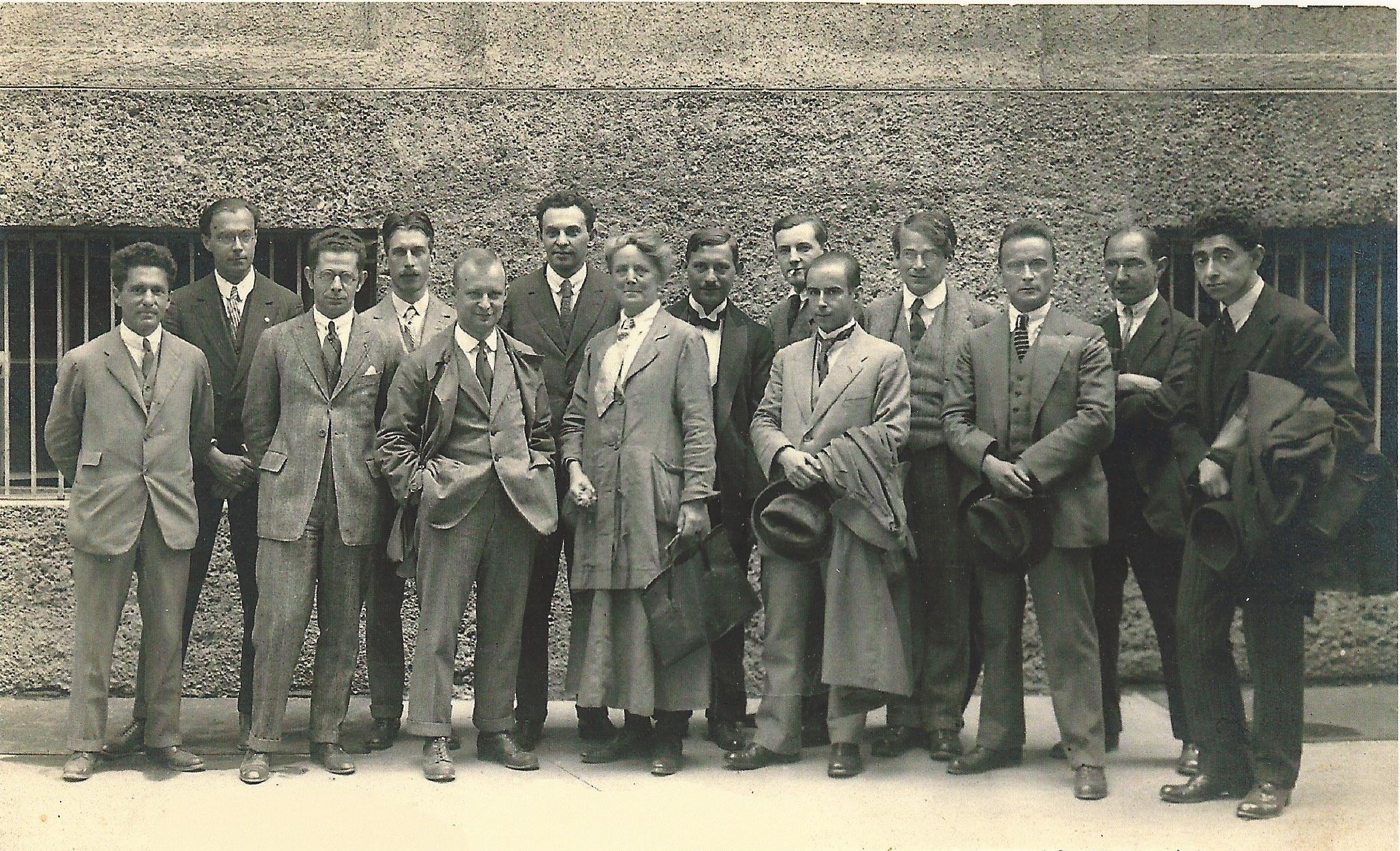 Concert | Alexis Rodda and Michael Lahr: Innovators in Exile Celebrating 100 Years International Society for New Music
Image Credits: The Lahr von Leitis Academy & Archive
November 3 | 7pm
RSVP to: events@acfny.org or +1 (212) 319 5300
Wearing a mask throughout the event is recommended.
Under the auspices of Thomas Hampson:
In 1922, composers from all over the world gathered in Salzburg to present their innovative musical works in a three-day festival. The chamber music festival challenged the national-conservative image of Austria promoted by the recently founded Salzburg Festival. At the end of this festival, Egon Wellesz, Rudolf Reti and others came together in the Café Bazar and founded the International Society for Contemporary Music (ISCM) which to this day continues to promote the advancement and dissemination of new music around the world. The featured photo from the estate of Egon Lustgarten is in the Lahr von Leïtis Archive; Lustgarten's daughter Eleanor Paul gave it to Elysium's founding director Gregorij von Leïtis: the photo shows a portion of the composers who participated in this modern music festival. Eight out of fourteen of those pictured were forced to emigrate to escape religious and political persecution by the Nazis: Wilhelm Grosz, Paul Hindemith, Hugo Kauder, Egon Lustgarten, Paul A. Pisk, Rudolf Reti, Karl Weigl, and Egon Wellesz. Many of these promising composers, devastated financially and professionally by their refugee status, fell into complete obscurity. Some of them carved out new paths of success – such as Egon Wellesz in England and Paul Hindemith in the U.S. – while most of them died in obscurity, financially destitute and disappointed by the course their life had taken. 100 years later, we want to shed light on these wrongfully forgotten composers.
This concert, which is the prelude to a three-day-festival planned in April of 2023 will feature songs and piano solo works of these little-noticed composers, giving them a voice again after decades of neglect. Some of these pieces are world premieres, and many have not been performed again since they were written and premiered. The idea of the program is to perform such works by these composers that were written after emigration to reflect their American or British careers. The three-day-festival (April 20, 24, and 26, 2023) will also present string quartets and other chamber music pices.
Concept: Alexis Rodda and Michael Lahr
Directed by Jeannie Im
Introduction: Michael Lahr
Alexis Rodda (soprano)
Jeannie Im (soprano)
Bryan Murray (baritone)
Dan Franklin Smith (piano).
Artists
Jeannie Im (soprano) has been a member of Elysium since 2000. Her collaborations with Elysium include the role of Gloria in the Italian premiere of Ernst Krenek's What Price Confidence at the Teatro dell'Opera di Roma, and numerous concerts featuring music by exiled or persecuted composers, such as a tour of Europe performing Ullmann's Legacy from Terezin; and premiering the role of Beatrice in the world-premiere of Egon Lustgarten's opera Dante in Exile in 2005 in Bernried and New York City. Besides performing for Elysium she conceived and directed the Operetta Revue Mein Liebeslied muss ein Walzer sein in 2014, and in 2015 the program Ich wandle unter Blumen: Songs of Art Nouveau Vienna. In 2011 and 2012 she was the assistant director for the International Summer Academy in Bernried.
In addition to her work with Elysium, Jeannie has performed in many festivals and venues throughout Europe and the US, including the Altenburger Musikfestival, Caramoor Music Festival, Carnegie Hall, Underworld Productions, and the Caroga Lake Music Festival. A Cum Laude graduate from U.C. Berkeley with an award for Academic and Theatrical Excellence, Jeannie Im obtained an M.A. in Musicology and a Certificate in Early Music Performance from NYU.
Michael Lahr (Concept & Introduction) studied philosophy and adult education at the Munich School of Philosophy and at the Jesuit University Centre Sèvres in Paris. He is the author of the books Erwin Piscator's Legacy Lives On: Conversations on Theater, Music, and Politics and The Erwin Piscator Award, and co-author of the essay volume Images of Man. A specialist on Piscator, the founder of political and epic theater, he curated the exhibition Erwin Piscator: Political Theater in Exile, which has to date been shown in Bernried, New York, Catania, Salzburg, Munich, and Vienna.
As program director of Elysium, he has unearthed numerous works by artists who, persecuted by the Nazis, were forced to leave their homes or were murdered. He lectures regularly on issues of general social and political importance, so far at the American Academy Berlin, the Leo Baeck Institute New York, the Ludwig-Maximilians-University Munich, the Deutsches Haus at New York University, the University of Catania / Sicily, the Mozarteum University Salzburg, the Vytautas Magnus University Kaunas, the University in Vilnius, and others. He is a Fellow Researcher at the Exilarte Center of the University of Music and Performing Arts Vienna.
Bryan Murray's recent engagements as a baritone include Priest/Fisherman in Saariaho's Only The Sound Remains at the Tokyo Bunka Kaikan, and Ben Upthegrove in Menotti's The Telephone for Pittsburgh Festival Opera. In 2018/19 he had a Bjön Eklund Scholarship for Deutsche Oper Berlin, performing comprimario roles during the 2018/19 season including Fiorello in Il barbiere di Siviglia, Moralès in Carmen, and Marullo in Rigoletto.
He obtained a Master of Musical Arts degree in opera performance from Yale University's School of Music under the tutelage of Richard Cross and Doris Yarick-Cross. He received an Artist Diploma and a Master of Music degree from the Purchase College Conservatory of Music, and a Bachelor of the Arts degree from Stony Brook University. In December 2019 Bryan won the first prize in the finals of the Talents of the World competition in New York, and a few days later took first prize in the Premiere Opera Foundation and NIYOP 2019 International Vocal Competition. Among other prizes he also was a finalist in the Eastern Region of the Met Council auditions
Alexis Rodda is a classically-trained soprano described by New York Classical Review as having "a lovely voice, full of color and body in every register." She attended Princeton University (BA), Mannes College (MM), and currently attends CUNY Graduate Center as a Five-Year Fellowship recipient and doctoral candidate. From 2019 to 2020 she was a Fulbright Scholar to travel to Vienna and conduct research in the Exilarte Centre. In 2018, she won a grant, the Elebash Award, to travel to Munich and explore the works of composer Egon Lustgarten at the Lahr von Leitis Archive. Previous operatic roles include Miss Jessel (Turn of the Screw). Agathe (Der Freischütz), Second Lady (Die Zauberflöte), Hanna (The Merry Widow), Rosalinde (Die Fledermaus), Nedda (I Pagliacci), Nora/Alice (She, After), The Witch (Hansel und Gretel), Berta (Il Barbiere di Siviglia), Mimi (La Boheme), Genovieffa (Suor Angelica), and Penelope (Il Ritorno d'Ulisse in Patria). She was a 2013 Boston Metropolitan Opera National Council District Winner and Regional Finalist, a 2014 NYC Metropolitan Opera National Council Encouragement Award Winner, a 2014 and 2018 Elebash Grant Winner, a 2016 Serge & Olga Koussevitsky Young Artist Award Finalist, and a 2021 Opera Viva! Competition finalist.
Dan Franklin Smith (Piano), has been working with Elysium since 1996 and served as its Music Director from 2005 until 2013. Under his musical direction Lustgarten's opera "Dante in Exile" received its world premiere at the Elysium Festival Bernried 2005. With G. v. Leïtis he presented Ullmann's musical legacy from Theresienstadt in many cities in Europe, the US and Canada.
Mr. Smith made his European recital debut in 1997 in Sweden. In 1998 he made his European orchestral debut in Stockholm at Sofia Kyrkan and was later featured on Swedish TV. In 2004, he recorded two piano concerti by the Swiss late-romantic composer Hans Huber with the Stuttgart Philharmonic Orchestra. These premier recordings received outstanding reviews and are broadcast on dozens of classical stations throughout the US.
As a soloist, chamber musician and accompanist he has performed at such venues as the National Gallery in Washington, DC, the Cleveland Museum's Distinguished Artist Series, Alice Tully Hall in New York City, the Savannah Music Festival, as well as tours in Bermuda, Taiwan, and Puerto Rico.