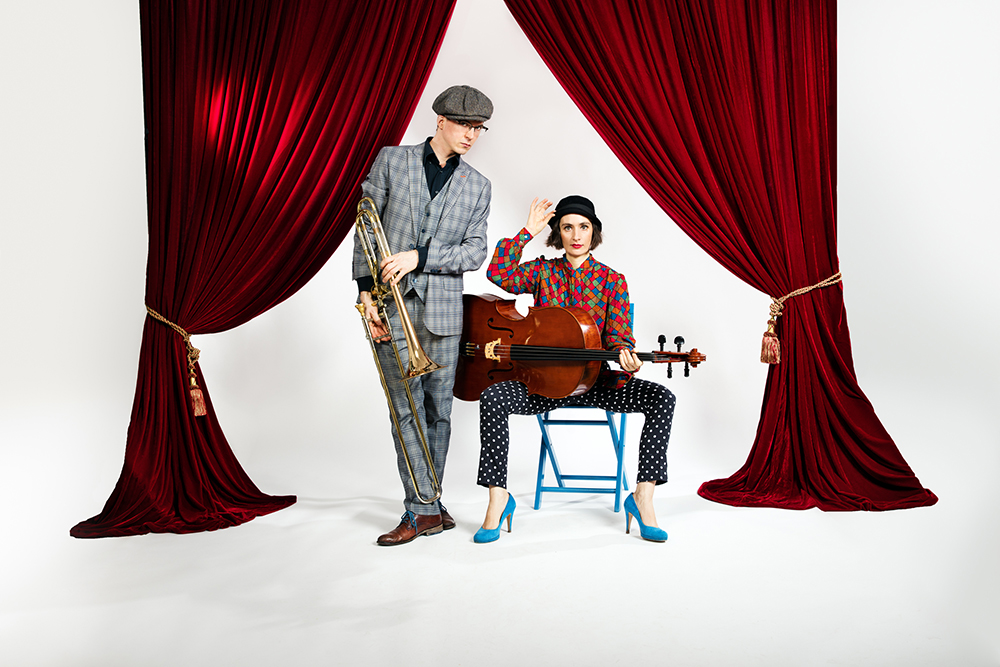 CONCERT | SINFONIA DE CARNAVAL
In a brand-new program titled Sweeping Dragon the virtuosic and distinguished duo whisks you away to a world of storytelling.
For this concert, Anna Lang and Alois Eberl, alias Sinfonia de Carnaval, decided to perform their music in a very adorable place in Upper Austria. They chose the Stadttheater (city theatre) of Gmunden, which is located right on the lake "Traunsee".
Sinfonia de Carnaval will present you a selection of new music they created during the COVID-19 lockdown in 2020. In this brand-new program with the title Sweeping Dragon the virtuosic and distinguished duo whisks you away to a world of storytelling. Stunning sound stories lead the audience into fantasy worlds or reflect real musical reports. Experiences, only dreamt or fantasy, are captured in tones with stupendous instrumental technique and inexhaustible creativity. The musical portraits, tales and euphonic snapshots which find their musical expression in relentless grooves, brutal dramatic scenes, broad fields of improvisation and spontaneity. The link to this virtual concert is available below:
ABOUT THE ARTISTS
Born in Salzburg, Anna Lang grew up in a family of artists in Upper Austria on Lake Traunsee. At the age of 15, she began her musical studies and is a graduate of the University Mozarteum in Salzburg (Piano Pedagogy), the Music University of Vienna (Master of Arts in Cello) and the Anton Bruckner Private University (Bachelor of Arts with Distinction in Jazz and Improvisation). Anna Lang is a free-lance musician, performing with the cello and piano, composer and is an instrumental educator in Vienna and Upper Austria.
Growing up surrounded by Austrian folk music and classical music, Alois Eberl continued his previous classical training in trombone and accordion at the Tyrolean Music Conservatory and there he discovered his passion for jazz and improvised music. In 2009 Alois completed his studies in Jazz Trombone and classical accordion at the Anton Bruckner University in Linz. Further, in 2012 he completed his second bachelor´s degree and in 2016 his master´s degree in classical trombone at the Mozarteum University in Salzburg.
FACEBOOK | YOUTUBE | INSTAGRAM
Image credit: Maria Frodl