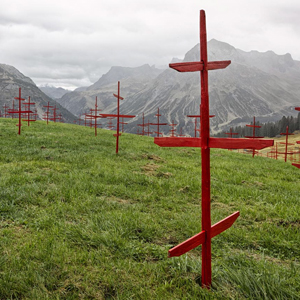 DISPLAY OF THE CENTURIES. FREDERICK KIESLER AND CONTEMPORARY ART
APR 1, 2015 – JUL 27, 2015
Presented by the Austrian Cultural Forum New York
Artists: ONA B., Josef DABERNIG, Wolfgang GEYER, Michael HUEY, Richard JOCHUM, Karl-Heinz KLOPF, KRÜGER & PARDELLER, Hanns KUNITZBERGER, Christoph MEIER, Ute MÜLLER, Eva PETRIČ, Gregor SCHMOLL, Hani RASHID, Gerold TAGWERKER, Josef TRATTNER, Heimo ZOBERNIG
Curated by Peter BOGNER
The group exhibition Display of the Centuries. Frederick Kiesler and Contemporary Art at the Austrian Cultural Forum New York is dedicated to the work and ideas of the Austrian American architect, designer, artist, and theoretician Frederick Kiesler, as 2015 marks the 50th anniversary of his death, his 125th birthday, and the 50th anniversary of the completion of his most famous work, the Shrine of the Book in Jerusalem.
The exhibition investigates how art is made and subsequently presented and tackles the highly topical question of how artists can develop presentation strategies to escape from the curators' omnipotence in today's commercialized art scene. Curator Peter Bogner assembles the works of 16 artists according to Frederick Kiesler's genius and his uncanny understanding that the 21st century needs, more than ever, new modes of creating, seeing, comprehending, and discerning varied realities.
16 contemporary artists examine strategies of representation and display, not only referencing the works of Frederick Kiesler, but also grappling with Raimund Abraham's intricate design of the building that hosts this exhibition. They will investigate questions of art production and its subsequent presentation.
Images:
1: Frederick Kiesler Arrives in New York. Vintage print, 1926. Underwood&Underwood.
2: International Exhibition of New Theater Techniques, Vienna. Vintage print, 1924.
3: City in Space. Exposition Internationale des Arts Décoratifs et Industriels Modernes, Paris. Vintage print, 1925.
4: Abstract Gallery, Art of This Century, New York. Vintage print, 1942.
5: Bloodflames 1947, Hugo Gallery, New York. Vintage print, 1947.
6: Salle de Superstition, Exposition Internationale du Surréalisme, Galerie Maeght, Paris. Vintage print, 1947.
All images ©Austrian Frederick and Lillian Kiesler Private Foundation Vienna