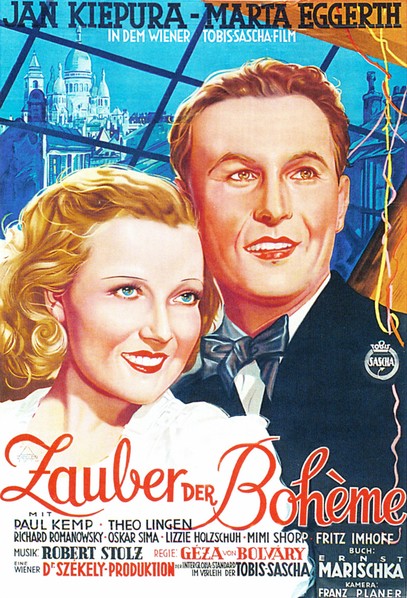 FILM SCREENING & TALK: ZAUBER DER BOHÈME (THE CHARM OF LA BOHÈME) | with Marjan Kiepura and Jane Knox-Kiepura, in partnership with the Exilarte Center Vienna
As part of the ongoing exhibition My Song For You – Marta Eggerth and Jan Kiepura Between Two Worlds, on show at the Exilarte Center Vienna, the ACFNY is looking forward to hosting a screening of Zauber der Bohème (The Charm of La Bohème; German original with English subtitles). The 1937 classic movie, directed by Géza von Bolváry is seen as the last big success of Eggerth and Kiepura in Austria before emigrating to the US.
++++
TICKETS
Free admission – RSVP required. To RSVP, please email events@acfny.org with your name and number of tickets you would like to reserve!
COVID-19 INFORMATION
All visitors will be required to wear a mask covering both mouth and nose at all times within the building.
In compliance with New York state law, proof of vaccination, as well as an ID., will be required upon entry. Proof of vaccination may include a CDC Vaccination Card, an NYC Vaccination Record, NYC Covid Safe App, Excelsior Pass, or an official immunization record from outside NYC or the U.S., showing proof of receipt of at least one dose of a COVID-19 vaccine authorized for emergency use or licensed for use by the U.S. Food and Drug Administration or authorized for emergency use by the World Health Organization.
++++
ABOUT MARTA EGGERTH & JAN KIEPURA
Marta Eggerth (1912, Budapest/Hungary – 2013, NY) and Jan Kiepura (1902, Sosnowiec/Poland – 1966, NY) both started their careers in early years and quickly were discovered as musical prodigies. Eggerth's outstanding soprano operetta singing and Kiepura's dazzling tenor performances were celebrated on stages and later especially in the new medium of sound film.
Meeting on set of one of these musical movies (Mein Herz ruft nach Dir, 1934) Eggerth and Kiepura arose as a dream couple of Austrian and German popular culture in the 1930s. After the "Anschluss", they were forced to flee Vienna, which the pair had called its home for several years. Successes continued on New York's Broadway, with tours around the country and after the war also in Europe again.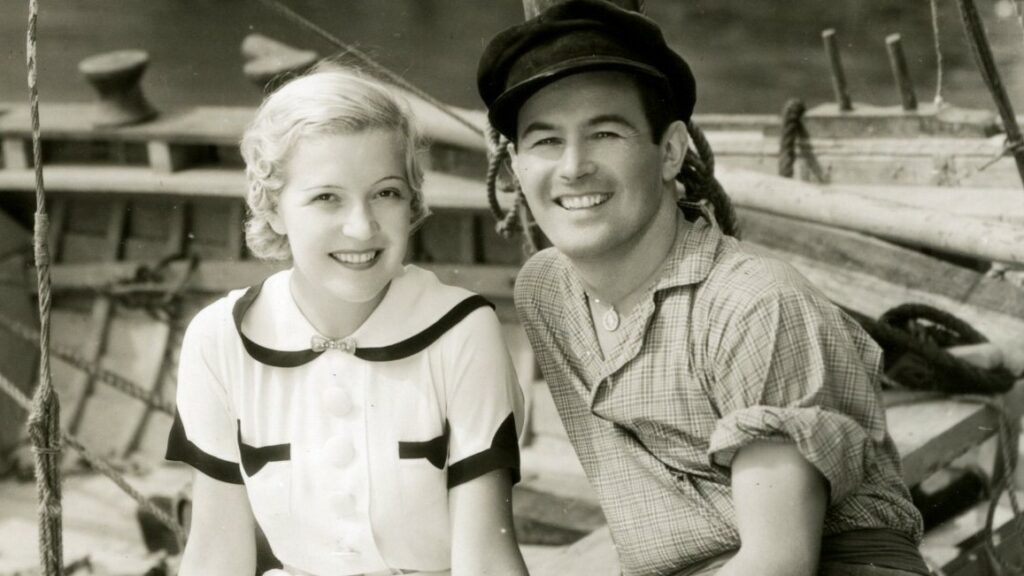 ABOUT THE FILM
Zauber der Bohème (The Charm of La Bohème, 1937) is a portrait of the contemporary Parisian artist scene: the famous actor couple represents the two aspiring newcomers René and Denise who get to play their longed-for parts in the famous Puccini opera. While falling in love on stage they do so also in real life – the analogy takes an unexpected turn when Denise finds out she suffers the same illness as her role.
Not only did the romantic melodrama have a major impact on the international stardom of Eggerth and Kiepura as the perfect duo, it is also paradigmatic for the genre of the Austrian "Musikfilm".
ABOUT MARJAN KIEPURA & JANE KNOX-KIEPURA
After the screening, there will be a discussion with the couple's son and NYC-based pianist Marjan Kiepura and his wife Jane Knox-Kiepura. Marjan Kiepura is especially well-known for his dedication to Polish composer Frédéric Chopin as well as reinterpretation of his parents' musical legacies.
ABOUT EXILARTE
The Exilarte – Zentrum für verfolgte Musik is a project of the University of Music and Performing Arts Vienna (mwd), with the mission to preserve, rehabilitate and display the work of Austrian musicians who were seen as "degenerate" during the Nazi regime. Drawing new awareness to the suppressed and forgotten artists, the Center plays an important role in the restitution of the national cultural heritage and, besides Eggerth and Kiepura, also represents others who found shelter in the city of New York.
+++
Image Credit: Film Cover: RAREFILMSANDMORE.COM. ZAUBER DER BOHEME (1937); Image Eggerth & Kiepura: Exilarte