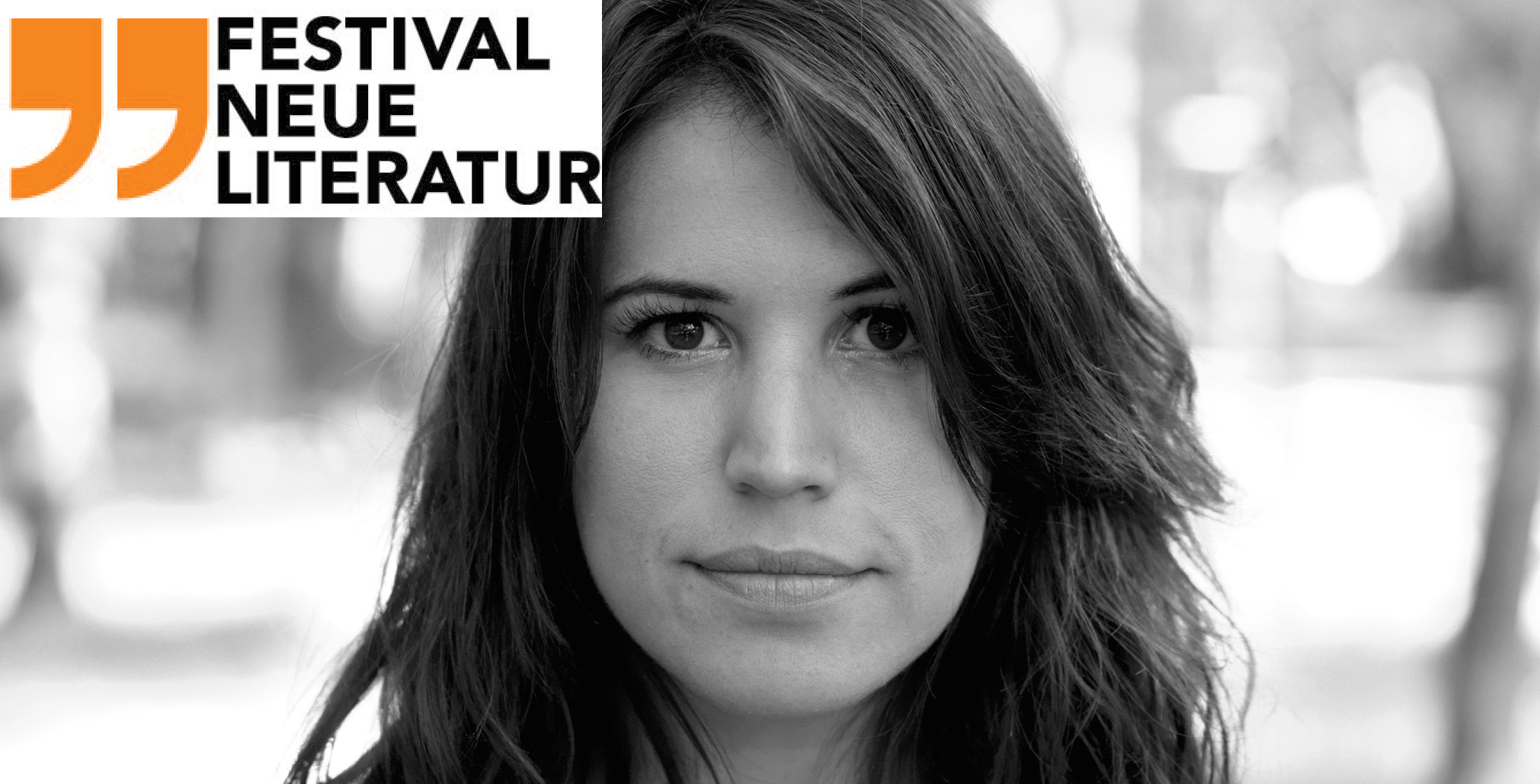 FNL 2016 | WORDS WITH WRITERS
With: all six German-language authors
Moderator: Ross Benjamin
New York's brightest students take on FNL authors in a lightning round of literary speed-dating.
Sibylle Berg by Cat Powell.
Iris Hanika by Jonathan Cohen.
Christopher Kloeble by Jane Marchant.
Xaver Beyer by James Wagner.
Vea Kaiser by Alex Fan.
Pedro Lenz by Anna Mayer
We thank the translator and Columbia University Professor Susan Bernofsky for advising on and assisting with this event.
ABOUT THE AUTHORS
Vea Kaiser was born in 1988 and studied Ancient Greek in Vienna. Her debut novel Blasmusikpop was honored in 2013 as the best German-language debut at the International Festival du Premier Roman in Chambéry and nominated for the Aspekte Literature Prize. She was a writer in residence at Bowling Green State University in the summer semester of 2014. That same year, she was named author of the year in Austria. Her latest novel, Makarionissi oder Die Insel der Seligen, was published in May 2015. Featured Novel: Blasmusikpop
Xaver Bayer was born in Vienna in 1977. In addition to his many novels, he has written plays, screenplays, and short story collections. Featured Novel: Geheimnisvolles Knistern aus dem Zauberreich
Sibylle Berg was born and grew up in Weimar, East Germany in a Jewish family. In 1984, after a number of her close friends were detained by the Stasi, she fled to the West. Her first novel, Ein paar Leute suchen das Glück und lachen sich tot (A Few People Search for Happiness and Die Laughing,) appeared in 1997 to huge acclaim, selling over 300 000 copies. To date, Sibylle Berg has published 19 novels and 18 plays. Her plays have been translated into sixteen languages, including Chinese, French, Greek, Italian, Korean and Polish. Reviewers compare her work to that of Brett Easton Ellis, Michel Houellebecq, David Sedaris and Will Self. Sibylle Berg is married and lives in Zurich, Switzerland. Featured Novel: Der Tag, als meine Frau einen Mann fand
Iris Hanika was born in Würzberg and has called Berlin her home since 1979. Her first story, "Katharina oder Die Existenzverpflichtung", came out in 1992 and her first novel, Treffen sich zwei, in 2008. In 2006, Hanika was conferred the Hans Fallada Prize by the city of Neumünster. Her novel Das Eigentliche was awarded the European Union Prize for Literature in 2010, and in 2011, it won the LiteraTour Nord prize. Her novel Wie der Müll geordnet wird was published in 2015. Featured Novel: Wie der Müll geordnet wird
Christopher Kloeble is a German novelist and scriptwriter. He is the recipient of numerous grants and awards, including the Juergen Ponto Stiftung Prize for "Best Debut" and the ABU Prize for "Best TV Drama," and he has held teaching assignments and residencies in Germany, the US, UK and India, among others. His last novel, Almost Everything Very Fast, which Kloeble is currently adapting as a feature film, will be published in English with Graywolf Press (USA) in February 2016, and his new novel will come out in Germany later the same year. Kloeble lives in Berlin and New Delhi. Featured Novel: Alles meistens sehr schnell
Pedro Lenz was born March 8, 1965, in Langenthal, Switzerland. After completing his apprenticeship as a mason in 1984, he earned a Matura degree in 1995 and subsequently studied Spanish literature at the University of Bern. He became a full-time writer in 2001. Today, Lenz lives in Olten, Switzerland, where he works as a playwright, novelist, poet and regular contributor for several national newspapers, such as NZZ, WoZ, AZ and SUVA. Lenz writes for "Morgengeschichten" (Morning Stories) commissioned by the Swiss National Radio and is a member of the Spoken-word collective "Bern ist überall" (Bern is everywhere) as well as the theater project "Hohe Stirn" (High Forehead). His novel Der Goalie bin ig, written in Swiss German, was nominated for the Swiss Book Prize in 2010 and won several prizes including the Schiller Prize for Literature in 2011. The book was translated into 5 languages, performed on stage and adapted to the big screen in 2014. The same year, Lenz won the Swiss Film Prize for best screenplay together with Jasmine Hoch and Sabine Boss and was awarded the Swiss Kleinkunst Prize by the Federal Office of Culture in 2015. Featured Novel: Der Goalie bin ig
THE STUDENTS
Cat Powell is a first-year fiction student in the Columbia University MFA program. Cat grew up in Boston and attended Harvard University, where she majored in Music and English with a minor in German. She spent several years living in Cape Town, South Africa, pursuing an MA at the University of Cape Town. She is currently working on a novel about the lives of Gustav Mahler and Leonard Bernstein.
Anna Mayer studies German literature at Rutgers University in NJ. Before pursuing a Ph.D. she received her Master's degree in Europe studying Comparative Literature in Vienna and Paris. Her research focuses on 20th-century literary works and their socio-political context. She served as Executive Assistant to the Jury of the ACFNY Translation Prize 2014/2015.
Jane Rebecca Marchant is an MFA candidate in Columbia University's School of the Arts, concentrating in Writing (Nonfiction). Prior to her 2015 graduation from Columbia's undergraduate School of General Studies, she lived in Munich, Germany; Amsterdam, The Netherlands; Olympos, Turkey; Sydney, Australia; and Berkeley, California, where she was raised. In addition to writing, she is a photographer of daily life and under-represented communities.
Jonathan Cohen studies German and French at Hunter College. His interests include late 19th and early 20th century German-language literature, continental philosophy, and gender studies. He is currently writing a German Honors Thesis on the topic of Kafka and phenomenology.
James Wagner is a Ph.D. candidate at New York University, where he is currently completing his dissertation on Thomas Mann's aesthetic and political thought. He is also the translator of a number of academic works, including Beyond Discontent: 'Sublimation' from Goethe to Lacan (2012) by Professor Eckart Goebel (Universität Tübingen) and The Media of Law (forthcoming, 2016) by Professor Thomas Vesting (Universität Frankfurt).
Born and raised in China and attending college in New York, Alex Fan has also spent extended periods in Germany and Russia. He fell in love with new German literature after seeing the play Der Russe ist einer, der Birken liebt in Maxim Gorki Theater in Berlin. Majoring in German Studies and Russian Studies, Alex attempts to explore the world of literature across different times, spaces and language areas.
THE MODERATOR
Ross Benjamin is a translator of German-language literature living in Nyack, New York. He received a 2015 Guggenheim Fellowship for his work on the first English translation of Franz Kafka's complete, unexpurgated Diaries, to be published by Liveright/Norton. His previous translations include Friedrich Hölderlin's Hyperion, Kevin Vennemann's Close to Jedenew, Joseph Roth's Job, and Clemens J. Setz's Indigo. He was awarded a 2012 National Endowment for the Arts Literature Fellowship for Translation, the 2010 Helen and Kurt Wolff Translator's Prize for his rendering of Michael Maar's Speak, Nabokov, and a commendation from the judges of the 2012 Schlegel-Tieck Prize for his translation of Thomas Pletzinger's Funeral for a Dog. His literary criticism has appeared in The Times Literary Supplement, Bookforum, The Nation, and other publications. He was a 2003-2004 Fulbright Scholar in Berlin and is a graduate of Vassar College.
For more information on the festival see: festivalneueliteratur.org and https://www.facebook.com/events/1569440243341830/
Photo by Vea Kaiser