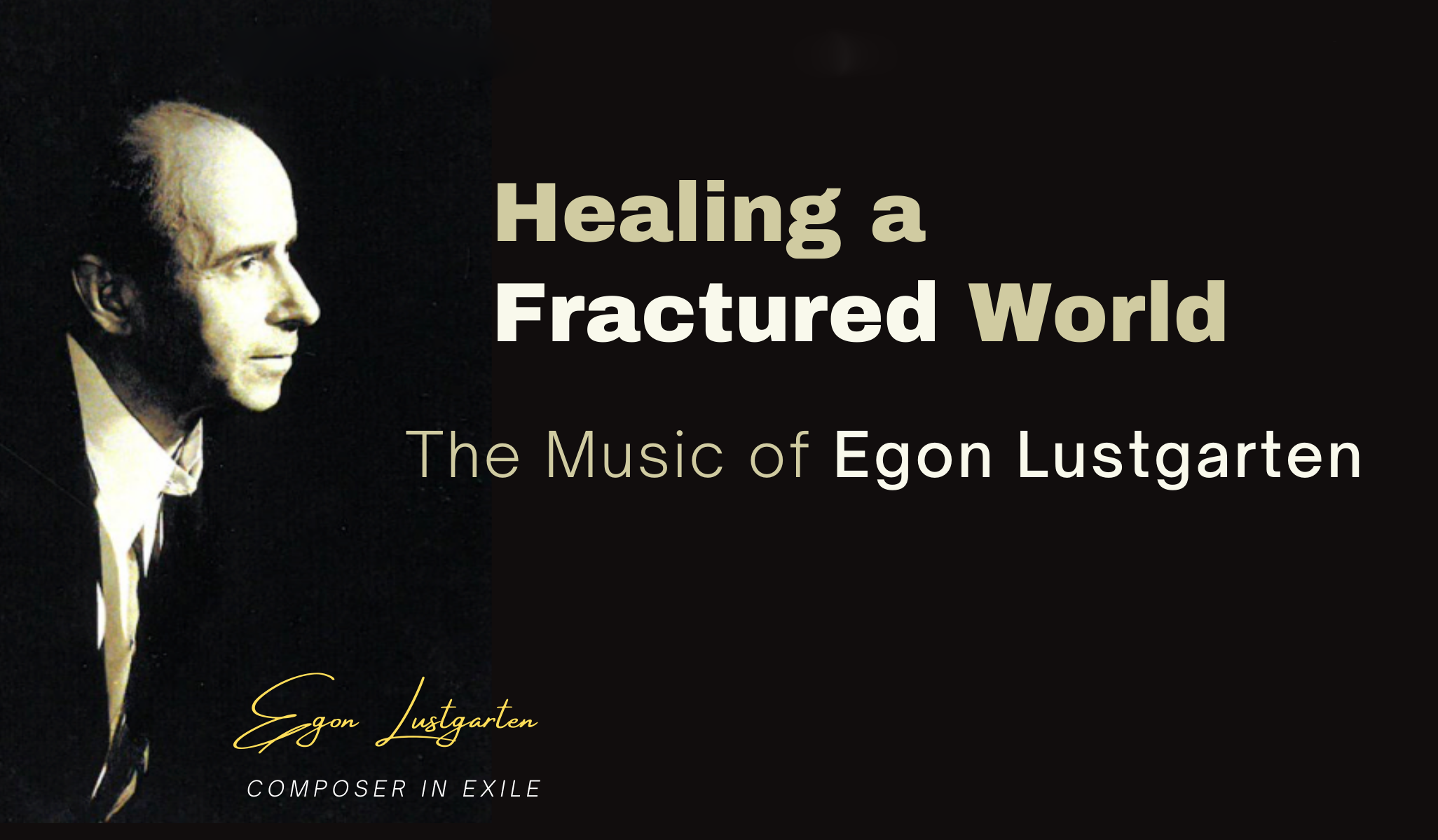 Concert & Reading | Healing a Fractured World: The Music of Egon Lustgarten
October 7, 2021, 7:30 PM
Healing a Fractured World: The Music of Egon Lustgarten, a production by Elysium Between Two Continents features works from the Vienna-born scholar, composer, and musician Egon Lustgarten (1887 to 1961).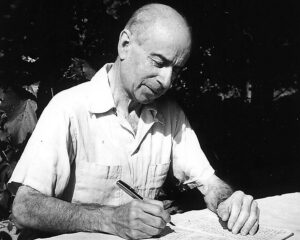 The letters, lectures, and biographical materials presented by Elysium Between Two Continents relate to Lustgarten's life after his escape from National Socialism in 1938 and emigration to the United States, and illustrate a bittersweet story of longing for "Heimat" and the artists struggle for survival and recognition.
Healing a Fractured World juxtaposes the joy of Lustgarten's Viennese compositions, and their late Romantic playfulness and melodic beauty, with the reality of the struggles as a refugee.
Many of Lustgarten's songs have never been performed publicly, or have not been performed since they were first composed.
Thus, the year of the 60th anniversary of Lustgarten's death, the composer's music is given new life and his legacy is celebrated.
In this performance, Elysium Between Two Continents Founder and artistic Director Gregorij von Leitis will read from the letters, lectures, and biographical materials from Lustgarten's estate which is held at the Lahr von Leitis Archive at the exil.arte Center at the University of Music and Performing Arts Vienna. The music will be presented by Alexis Rodda (soprano), Wil Kellerman (baritone) and Dan Franklin Smith (piano).
+++
V

ISITING US SAFELY
We kindly ask that you wear a mask covering both mouth and nose at all times within the building.
Please note, as per the

New York City Covid-19 Executive Order 225

, proof of vaccination, as well as an I.D., will be required upon entry. Proof of vaccination may include a CDC Vaccination Card, an NYC Vaccination Record, NYC Covid Safe App, Excelsior Pass, or an official immunization record from outside NYC or the U.S., showing proof of receipt of at least one dose of a COVID-19 vaccine authorized for emergency use or licensed for use by the U.S. Food and Drug Administration or authorized for emergency use by the World Health Organization.
A coat rack area will be available for guests to leave their jackets and umbrellas.
ABOUT THE PARTICIPANTS
Virginia native bass-baritone Wilbert Kellerman has been described as "superb…a promising voice" (OperaWire) and "winning" (Schmopera) in recent performances. Upcoming roles include the Officer in Il barbiere di Siviglia with Teatro Nuovo at Lincoln Center and other performances as a 2021 Resident Artist. Recent appearances include an artist series recital at the University of Scranton, Golaud in Pelléas et Mélisande at the Moss Arts Center at Virginia Tech, Hunding in Die Walküre, a gala performance to benefit Roanoke Symphony, the 2018 Kosciuszko Foundation Sembrich International Voice Competition, and in 2019 the Secret Police Agent in The Consul, as well as the title role in The Mikado with Bronx Opera. Past engagements include Alcade and Chirurgo in La forza del destino with New Amsterdam Opera. Wilbert recently earned a Master of Music degree from Mannes School of Music, where he performed the roles of Figaro in Le nozze di Figaro and Nick Shadow in The Rake's Progress. In 2018 he was an Apprentice Artist at Teatro Nuovo, the new home of Bel Canto at Caramoor. Wil resides in New York City, where he is also a sought-after chess tutor and violinist.
+++
Michael Lahr studied philosophy in Munich and Paris. He is the author and editor of the books "Erwin Piscator's Legacy Lives On. Conversations about Theater, Music and Politics" and "The Erwin Piscator Award". In the Karl Jaspers Yearbook 2019/20, he published an essay on "Erwin Piscator and the Bauhaus". As a specialist in Erwin Piscator, the founder of the political and epic theater, he curated the exhibit "Erwin Piscator: Political Theater in Exile", which so far has been seen in Bernried, New York, Catania, Salzburg, Munich, and Vienna. As the program director of Elysium, he has unearthed numerous works by artists who had to flee their home country under the pressure of the Nazi regime, or who were murdered. Many of these compositions were performed for the first time in concerts in Europe and the U.S. He gives introductory lectures for all Elysium programs. At the same time, he lectures regularly on questions of general social and political significance.
Michael Lahr is a fellow researcher at the exil.arte Centre of the University of Music and Performing Arts in Vienna / Austria.
+++
Alexis Rodda is a classically-trained soprano described by New York Classical Review as having "a lovely voice, full of color and body in every register." She attended Princeton University (BA), Mannes College (MM), and currently attends CUNY Graduate Center as a Five-Year Fellowship recipient and doctoral candidate. From 2019 to 2020 she was a Fulbright Scholar to travel to Vienna and conduct research in the exil.arte Centre (Exiled Art Center.) In 2018, she won a grant, the Elebash Award, to travel to Munich and explore the works of composer Egon Lustgarten at the Lahr von Leitis Archive. Previous operatic roles include Miss Jessel (Turn of the Screw). Agathe (Der Freischütz), Second Lady (Die Zauberflöte), Hanna (The Merry Widow), Rosalinde (Die Fledermaus), Nedda (I Pagliacci), Nora/Alice (She, After), The Witch (Hansel und Gretel), Berta (Il Barbiere di Siviglia), Mimi (La Boheme), Genovieffa (Suor Angelica), and Penelope (Il Ritorno d'Ulisse in Patria). She was a 2013 Boston Metropolitan Opera National Council District Winner and Regional Finalist, a 2014 NYC Metropolitan Opera National Council Encouragement Award Winner, a 2014 and 2018 Elebash Grant Winner, a 2016 Serge & Olga Koussevitsky Young Artist Award Finalist, and a 2016 Violetta DuPont Competition Encouragement Award Winner.
+++
Dan Franklin Smith (Piano), has been working with Elysium since 1996 and served as its Music Director from 2005 until 2013. Under his musical direction Lustgarten's opera "Dante in Exile" received its world premiere at the Elysium Festival Bernried 2005. With G. v. Leïtis he presented Ullmann's musical legacy from Theresienstadt in many cities in Europe, the US and Canada.
Mr. Smith made his European recital debut in 1997 in Sweden. In 1998 he made his European orchestral debut in Stockholm at Sofia Kyrkan and was later featured on Swedish TV. In 2004, he recorded two piano concerti by the Swiss late-romantic composer Hans Huber with the Stuttgart Philharmonic Orchestra. These premier recordings received outstanding reviews and are broadcast on dozens of classical stations throughout the US.
As a soloist, chamber musician and accompanist he has performed at such venues as the National Gallery in Washington, DC, the Cleveland Museum's Distinguished Artist Series, Alice Tully Hall in New York City, the Savannah Music Festival, as well as tours in Bermuda, Taiwan, and Puerto Rico.
He is a member of the Recording Society as well as the American Matthay Association and frequently performs at their yearly conferences.
+++
Inspired by Erwin Piscator's idea of a socially relevant theater, Gregorij H. von Leïtis, Artistic Director of Elysium, has been working for 50 years as director and educator at various theaters in Europe and in the US. In 1985 he received the New York Theater Club Prize for this direction of Brecht's "The Jewish Wife". In 2003, he was awarded the Knight's Cross of the Order of Merit by German President Johannes Rau. In 2016 the Austrian President Dr. Heinz Fischer bestowed the Austrian Cross of Honor for Science and Art on him.
In 1985, Gregorij von Leitis founded the Erwin Piscator Award Society, which annually confers the Erwin Piscator Award. In 1989, he created the program "Theater for the Homeless" with his with the Elysium Theater Company. Since 1997, Gregorij von Leitis' work has emphasized staging the works of artists who were persecuted and silenced by the Nazis. He directed Ullmann's opera "The Emperor of Atlantis" in New York, the Italian premiere of Krenek's opera "What Price Confidence?", and the world premiere of Egon Lustgarten's opera "Dante in Exile". One of Viktor Ullmann's last works from the concentration camp Theresienstadt, "The Lay of Love and Death of the Cornet Christoph Rilke," von Leitis has performed internationally more than 50 times.