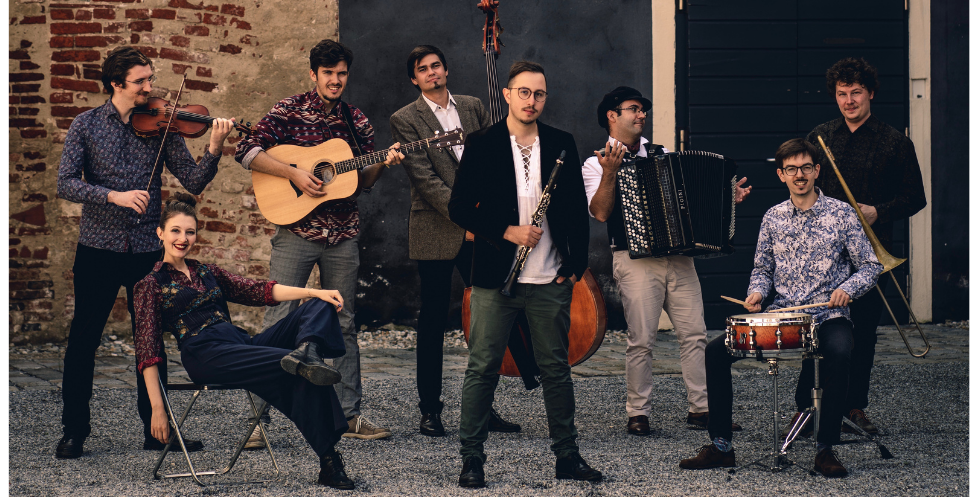 CONCERT RECORDING | MORITZ WEISS KLEZMER TRIO & FRIENDS
To commemorate the International Holocaust Remembrance Day – the anniversary of the liberation of Auschwitz-Birkenau – on 27th January, this year, we are presenting an exclusive, edited 35-minute recording of a live concert by the Moritz Weiß Klezmer Trio at the Austrian Broadcast radio station "ORF-Radiokulturhaus" from November 2020.
The album includes original compositions, traditional pieces & songs, and compositions from the international Yiddish Music and Klezmer scene. While the first pieces are still in the trio formation, gradually, various guest musicians join the line-up and form an 8-piece ensemble in the finale.
The balancing act between tradition and innovation has accompanied the Moritz Weiß Klezmer Trio since the beginning. Thus, "Klezmer Explosion" is another attempt to connect the past with the future. You will find traditional pieces and songs from the repertoire of great revivalists of the past century including Giora Feidman, the Klezmatics and Chava Alberstein. On the other hand, new (Klezmer) compositions by Moritz Weiß, Ivan Trenev, Niki Waltersdorfer and Helmut Eisel represent a contemporary approach to the world genre "Klezmer."
The live concert recording link will available from January 11 through February 7:
"Klezmer Explosion" Line-up:
Moritz Weiß – Clarinet
Niki Waltersdorfer – Guitar
Maximilian Kreuzer – Upright Bass
feat.
Clara Montocchio – Vocals
Albin Krieger – Violine
Simon Kintopp – Trombone
Ivan Trenev – Accordion
Lukas Kleemair – Drums
ABOUT THE ARTISTS
Presenting old traditional sounds in a new guise MORITZ WEISS KLEZMER TRIO features Moritz Weiß (clarinet, bass clarinet, vocals), Niki Waltersdorfer (guitar, percussion, vocals) and Maximilian Kreuzer (double bass, vocals. They present their own take on Klezmer music by developing it further and retelling it in a wonderful new musical language.
Founded in 2015, this virtuosic trio bridges the gap between past and present, incorporating many musical forms and styles from other epochs, while always giving a respectful nod to the Jewish music tradition.
The sophisticated pieces of Moritz Weiß Klezmer Trio are loaded with energy and artfully multi-layered with elements from various other genres, such as jazz and classical music. The Moritz Weiß Klezmer Trio is part of the New Austrian Sound of Music (NASOM) program 2020/21.
WEBSITE | YOUTUBE | SOUNDCLOUD
Image Credit: Reithofer Media