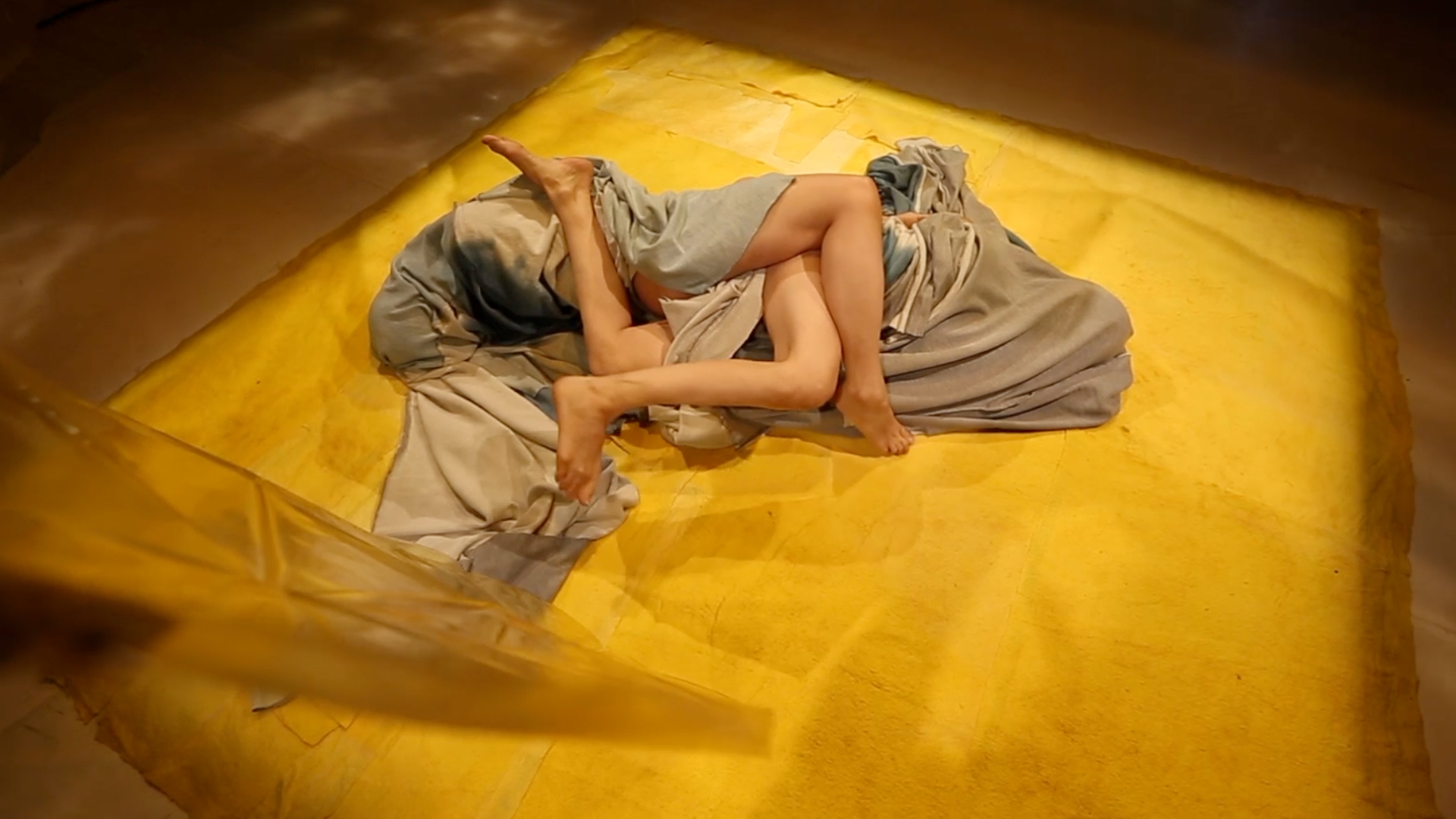 PATCH THE SKY WITH 5 COLORED STONES
A 24h virtual Communal Gathering and an Online Platform launch invites the spectator to join in the effort to conjure an experience of human intimacy.
On March 6, 2021, at 12pm EST, The Chocolate Factory will celebrate the occasion of Daria Faïn's 25th anniversary as an NYC based artist with a preview of the patch the sky with 5 colored stones interactive digital platform – inviting the spectator to join in the effort to conjure an experience of human intimacy using tools of disconnection. Featuring a preview of the films produced at The Chocolate Factory's current and future spaces in August / September 2020, archival materials chronicling the project's creation, and responsive works generated by participating artists, this event will culminate in an informal discussion between Faïn, Tuomas Laitinen (artistic collaborator), Kerstin Schroth (Artistic Director, Moving in November Festival, Helsinki), Barbara Bryan (Executive Director, Movement Research), Brian Rogers (Artistic Director, The Chocolate Factory Theater) and members of the collaborative team. This celebration will be free and open to the public via Zoom (register here).
Originally conceived as a solo performance with special appearances by Faïn's long time collaborators (intended to premiere at The Chocolate Factory Theater in September 2020) celebrating her 60th birthday and the culmination of 40 years of research into the body/mind embodiment within architecture, language, spirituality and communal action (drawn from Daria's ongoing work with poet/architect Robert Kocik in the Commons Choir), patch the sky with 5 colored stones will now unfold in two separate but deeply related strands.
The first, a series of original short films adapted from Daria's solo work and collaborative duets with choreographers/performers Melanie Maar and David Thomson – informed by her decades-long investigation into the divine feminine – were produced at The Chocolate Factory's current and future spaces in August/September 2020 and will be released in late 2021.
Embracing the uncertainty and dislocation of the global lockdown, in March 2020 Daria and her collaborators – an international group of performers, composers, designers, poets, architects and filmmakers – began to gather weekly for durational rehearsals via Zoom. Originally intended to facilitate remote collaboration with the project's European participants, these meetings gradually became less functional and more experiential as new pathways to collaboration, and a new understanding of the "real", unfolded via the disconnected tools of the internet, at an unprecedented historical moment, while confined to domestic spaces across different cities and time zones – the sensations of "rehearsing" during lockdown becoming the experience of the work itself. The culmination of this month-long exercise in remote collaboration, this 24-hour online gathering will speak to the boundless and all-encompassing spaces that can manifest between human beings in the virtual realm.
With imagery, action-based score, sound, language, color, and time, the online iteration of patch the sky with 5 colored stones will dive simultaneously into the respective skills of each participant, freely associating within the specific approach of Chinese 5 Element Theory (and the correspondences between our organs, colors, sound, speech, time of day, emotions and direction in space) to open up a multi-layered contemplation on our collective states of being – which has been the basis of Faïn's work for more than 35 years.
Instigated by Daria Faïn in collaboration with Anaïs Maviel, vocalist/instrumentalist/composer (France / USA), Athena Kokoronis, artist (USA), Christian Konrad Schröder, composer/musician (Austria), David Thomson, performer (USA), Melanie Maar, performer (Austria / USA), Robert Kocik, poet/architect (USA), Saúl Ulerio, performer and performance consultant (USA), Tuçe Yasak, lighting designer (Turkey / USA), Tuomas Laitinen, director/performer (Finland), Alex Romania, director of photography (USA), Alexis Convento, project manager (Germany / USA), Annie Wang, web developer (USA), LD DeArmon, technical director (USA), nb zhong, creative editor (USA), and Shana Crawford, assistant (USA).
patch the sky with 5 colored stones is commissioned and presented by The Chocolate Factory Theater with support from the Austrian Cultural Forum NYC, Brooklyn Studios for Dance, a Foundation for Contemporary Arts Emergency GrantKone Foundation, Movement Research, and New York State Council on the Arts.
WEBSITE │FACEBOOK │REGISTRATION
ABOUT THE ARTISTS
Daria Faïn is a New York choreographer and director originally from the Mediterranean. Her work fuses her European cultural background with three decades of practice in Asian philosophies of the body, American dance training and theater. In 2006, working collaboratively with poet/architect Robert Kocik, Faïn created the Prosodic Body, a new field of research on the embodiment of language that manifests in performance, education, architecture and writing.
+++
New York-based dance artist and teacher Melanie Maar originally hails from Vienna, Austria. She runs a live work space in Brooklyn. As a performer Maar has worked with luciana achugar, RoseAnne Spradlin, Daria Fain, Luis Lara Malvacias, among others. Maar co-curated the Movement Research Festival 2010 and The Moving Sounds Festival 2013. Collaborations with musicians include Kenta Nagai, Doug Henderson, and Anthony Braxton. Her work has been seen in New York at the Chocolate Factory, Dance Theater Workshop, Roulette, Danspace Project, Movement Research, and the Baryshnikov Arts Center and has toured to San Francisco, L.A., Vienna ImPuls Tanz, Lisbon, Glasgow, Oslo, Aarhus, and Berlin.
+++
Christian Konrad Schröder develops artistic works in different medias based on sound such as dance, visual arts, film, music and installation. With the artist group Kollektiv / Rauschen he runs the Rauschen-Space in Vienna. Furthermore he created sound installations and multi-speaker compositions at international events such as the architectural Biennale in Venice and the Morning Line at TBA 21.
Image credit: Sky's Valves, a duet by Daria Faïn & Melanie Maar. Video still, filmed by Alex Romania, visuals by Athena Kokoronis and lights by Tuçe Yasak. © patch the sky with 5 colored stones