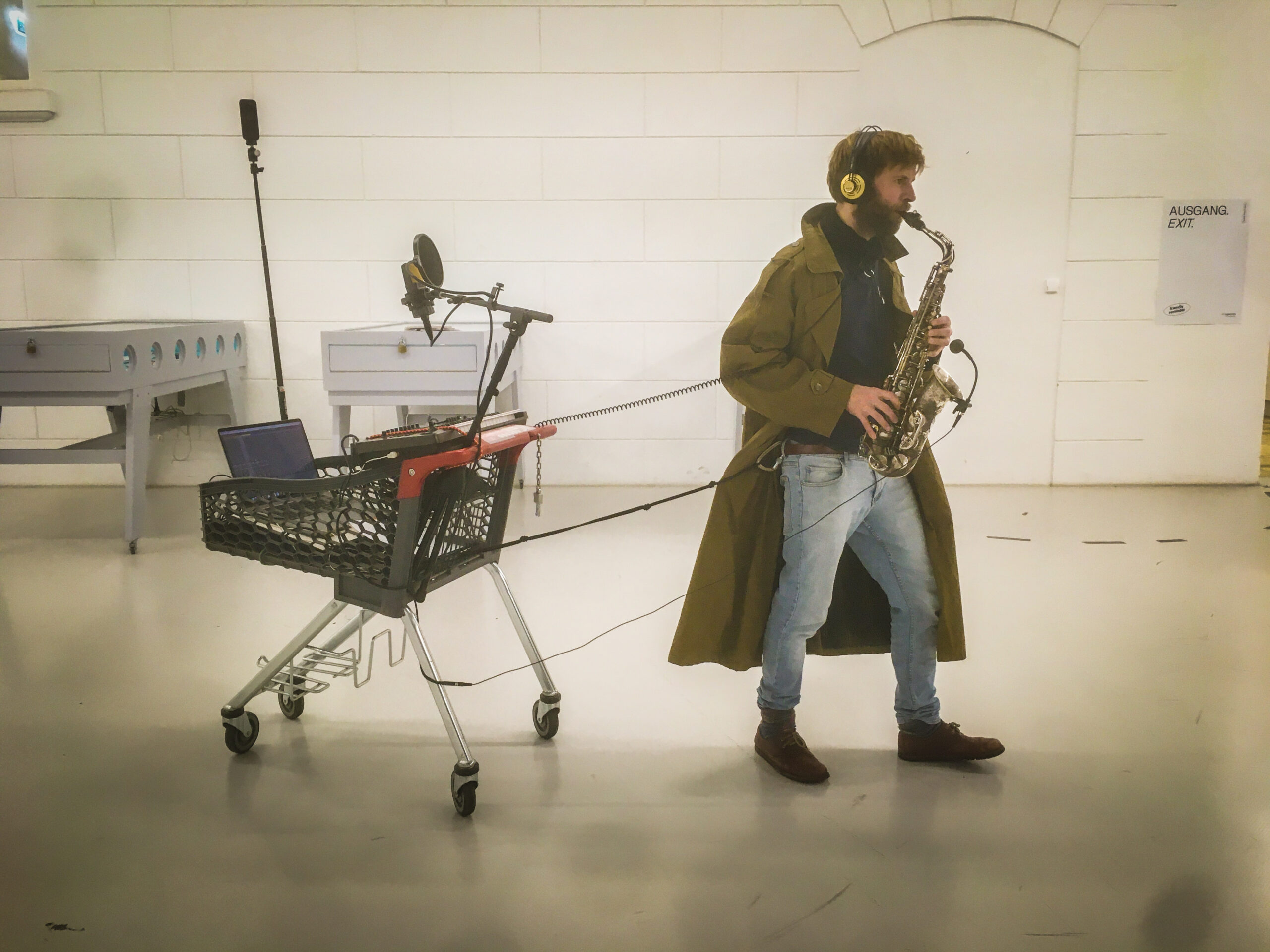 The Streamer's Guide to the Galaxy | Bruseum Graz – Season 1, Episode III
June 29, 2021 | An artist pushes a strange wagon, loaded with various instruments through space. All you can hear on the spot are the wheels on the floor, sometimes a saxophone, sometimes a voice. In reality, beyond the perception of attending visitors, the walking musician creates a live soundtrack for the moving picture which is filmed by a 360° camera, attached to the trolley.
In the series "The Streamer's Guide to the Galaxy" Episode III, a musician travels through an exhibition on works by Austrian artist Dominik Steiger at the Bruseum. The Bruseum functions as an independent collecting, research and exhibition arm of the Neue Galerie Graz dedicated to the life and work of the world-famous Styrian multi-genre artist Günter Brus, whom the ACFNY featured in the 2020 exhibition, Freedom Will Have Been an Episode. In its exhibitions, the Bruseum shows not only works by Brus himself, but also those by artists who have influenced, accompanied and furthered his development.
The music for the current episode of Lukas Schiemer's "The Streamer's Guide to the Galaxy" at the Bruseum in Graz, Austria, was mainly inspired by Austrian artist Dominik Steiger's cross-media works. The video series "6 Attempts to Speak to the 'Flak Towers'," released as a color film in 1996, served as a creative starting point. Excerpts from Steiger's dialogues run through the entire 21-minute video and also span the content of the tour through the exhibition.
A short excerpt of an audio recording called "Ultramundane Melody" from 1971 can be heard before Dominik Steiger's voice, accompanied by drums, tells the beginning of a story.
The Austrian Cultural Fora in New Delhi, Washington D.C., New York, and Mexico City collaborated with Lukas Schiemer to produce the musical virtual tours of four extraordinary cultural sites in Austria.
Episode I – Kunsthistorisches Museum Vienna
Watch the trailer for Episode 3 here.
The link to the video will be shared prior to its premiere date.
ABOUT THE ARTIST
Lukas Schiemer
Born in 1982 in Bregenz he is currently living as an independent artist, composer, pedagogue and musician in Vienna, Austria. As a saxophonist, pianist and singer Lukas Schiemer is involved in various, mostly musical, projects. 2007 he finished his studies for a bachelor of arts, specializing in the jazz saxophone, at the private university "Konservatorium Privatuniversität Wien". He finished his second bachelor studies of Instrumental and Singing Pedagogics with Wolfgang Puschnig in March 2012, at the University for Music and Performing Arts Vienna, followed by the corresponding master's degree with Klaus Dickbauer in 2016.
He has composed for various theaters as the Luisenburger Festspiele (DE), Tiroler Volksschauspiele (AUT), the Landestheater Niederbayern (DE) and the Landestheater Vorarlberg (AUT). He started early to produce video content for many artistic projects which led to his brand new 360° video project 'The Streamer's Guide to the Galaxy (2020).