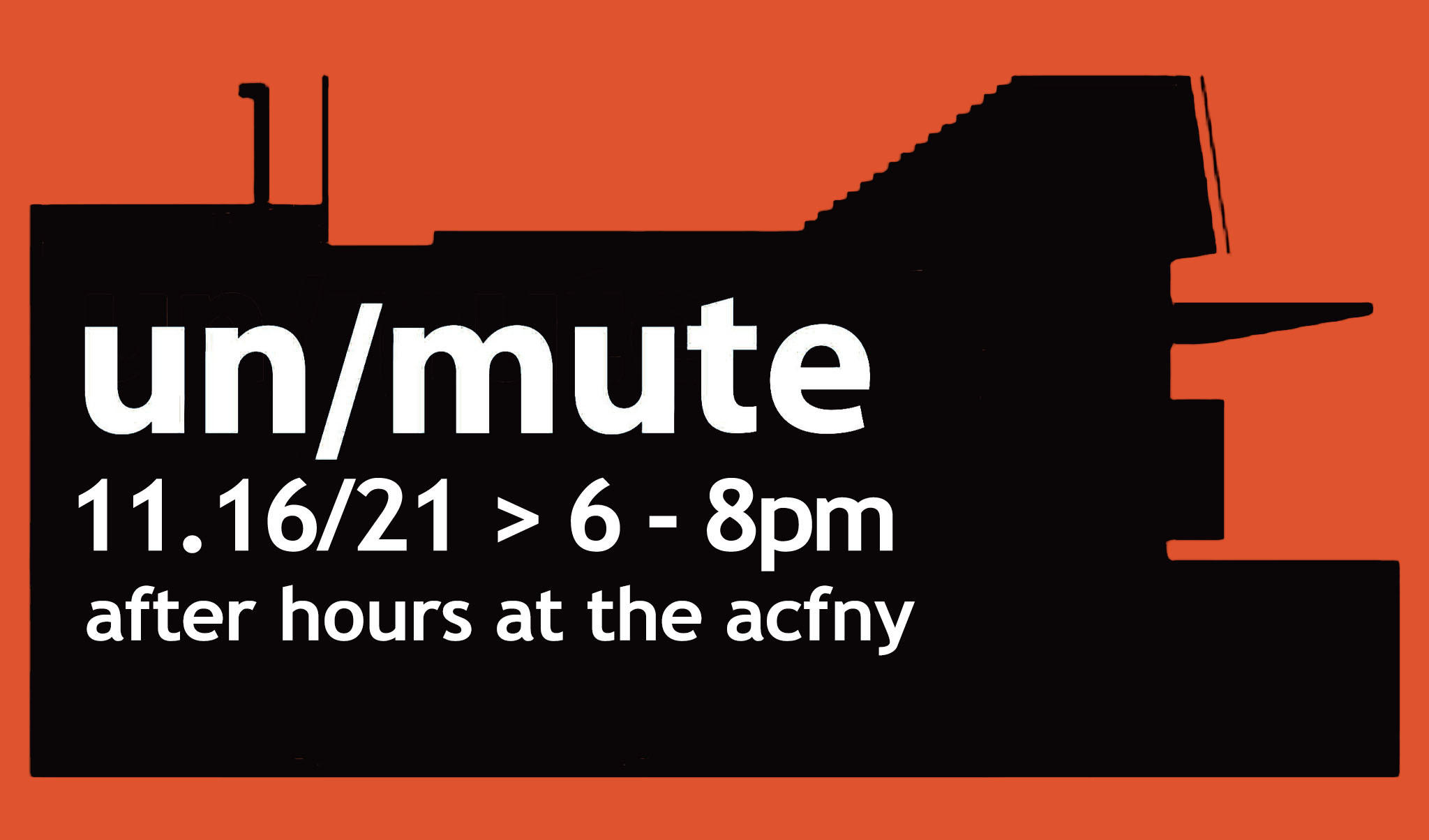 un/mute After Hours at the ACFNY
November 16, 6 – 8 PM
*Proof of vaccination, as well as an I.D., will be required upon entry.
Meet the artists behind our current international group exhibition "un/mute" and join us for 4 site-specific performances throughout the evening. As strangers who became collaborators, the artists for un/mute created artworks virtually and will be meeting "IRL" for the first time. Come celebrate the creative impulse, international collaboration and the power of art!
Some of the artists participating include Gabrielė Gervickaitė (Lithuania), Marie Lukáčová (Czech Republic), Saddie Choua (Flanders), Olesja Katšanovskaja-Münd (Estonia), Sheila Maldonado (NYC), Luisa Muhr (Austria), and Barbara Maria Neu (Austria), with more artists to be announced at a later date.
+++
VISITING US SAFELY
We kindly ask that you wear a mask covering both mouth and nose at all times within the building.
*Please note, in compliance with New York state law, proof of vaccination, as well as an I.D., will be required upon entry. Proof of vaccination may include a CDC Vaccination Card, an NYC Vaccination Record, NYC Covid Safe App, Excelsior Pass, or an official immunization record from outside NYC or the U.S., showing proof of receipt of at least one dose of a COVID-19 vaccine authorized for emergency use or licensed for use by the U.S. Food and Drug Administration or authorized for emergency use by the World Health Organization.
ABOUT THE EXHIBITION
On view at the ACFNY and Undercurrent through January 7, 2022, "un/mute" is the culmination of two online residencies launched in 2020 to provide European and NYC-based artists an opportunity for critical exchange and collaboration during the COVID-19 global pandemic.
Co-curated by Daina Mattis and Melinda Wang, "un/mute" is the physical manifestation of online conversations among strangers who became collaborators. What began as abstract and digital are now 14 tactile, concrete artworks presented across two locations. The exhibition features sculptures, installations, films, drawings, photographs, and performances created by artists who confronted the parameters imposed by the lockdowns and found creative solutions that we might all learn from.
un/mute is a project by Undercurrent and the following members of EUNIC NY – European Union National Institutes for Culture: Austrian Cultural Forum New York, Czech Center New York, Consulate General of Estonia in New York, Delegation of Flanders to the USA, Goethe-Institut New York, Lithuanian Culture Institute, Arts Council Malta in New York, Polish Cultural Institute New York and Romanian Cultural Institute. un/mute is also supported by EUNIC Global, the European Union Delegation to the United Nations, Hope Recycling Station and Jindřich Chalupecký Society.
Open hours: ACFNY, 10 am-6 pm daily; Undercurrent, 1-7 pm Thursday-Sunday; free admission
Learn more at http://www.unmute.nyc