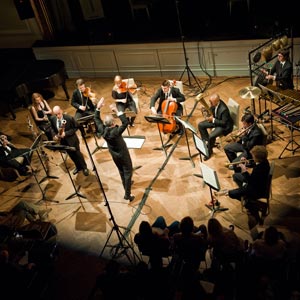 VIENNA REINVENTED: BILLONE, NEUWIRTH, GANDER | TALEA ENSEMBLE
Vienna Reinvented: Billone, Neuwirth, Gander is the second of two programs by the Talea Ensemble devoted to three trailblazing composers who have made Vienna their musical home. Olga Neuwirth's piece was written as a study for her 2012 opera The Outcast, based on the life of Hermann Melville and characters from his novels, particularly Moby Dick. Bernhard Gander's Take Nine for Twelve is based on rhythmic procedures, complex yet ideally transparent to the listener. His main musical inspiration has been and continues to be rock and heavy metal, and the energy from these genres permeates his music. The centerpiece on the program is Billone's large-scale work, which like the Neuwirth piece was written for the Viennese ensemble, Klangforum Wien, and which explores the limits of non-traditional playing techniques in the midst of many virtuosic solo moments. A text work by Richard Long anchors the piece and makes a quietly intoned appearance. James Baker conducts these three U.S. premieres. The first program, featuring works for a chamber ensemble by these composers, will take place March 4th, at the Austrian Cultural Forum.
This concert is part of the Austrian Cultural Forum's series of events within the framework of Carnegie Hall's Vienna: City of Dreams (carnegiehall.org/vienna) festival.

PROGRAM
Olga Neuwirth – un posto nell'acqua (Herman Melville-Skizze) (2009) *US Premiere
Bernhard Gander – Take Nine for Twelve (2011) *US Premiere
Pierluigi Billone – Mani.Long (2001) *US Premiere

ABOUT THE ARTISTS
"Championing works like these, and playing them with a compelling lucidity, is precisely what Talea Ensemble does best." -New York Times
The Talea Ensemble has been labeled "…a crucial part of the New York cultural ecosphere" by the New York Times and has given many important world and US premieres of new works by composers including Pierre Boulez, Tristan Murail, Olga Neuwirth, John Zorn, Unsuk Chin, Rand Steiger, Beat Furrer, and Fausto Romitelli. Talea has performed at Lincoln Center Festival, Internationales Musikinstitut Darmstadt, Wien Modern, Contempuls, Newport Jazz Festival, La Ciudad de las Ideas (Mexico), Art Summit Indonesia (Jakarta), and the International Contemporary Music Festival (Peru). Radio broadcasts of performances have been heard on ORF (Austria), HRF (Germany), and WQXR's Q2.  As an active collaborator of new music Talea has joined forces with the Austrian Cultural Forum, Consulate General of Denmark, Korean Cultural Service NY, Italian Cultural Institute, and the Ukrainian Institute.  Assuming an ongoing role in supporting and collaborating with student composers, Talea has served as ensemble in residence at Harvard University, Columbia University, Stanford University, Ithaca College, Cornell University and New York University. Talea has recorded works on the Living Artists Label, Gravina Musica, Tzadik, and a forthcoming release on New World Records. Recently commissioned composers include Anthony Cheung, Christopher Trapani, and Georges Aperghis.
> More information: taleaensemble.org

Conductor James Baker is Music Director and conductor of the Composers Conference at Wellesley College, Director of the Percussion Ensemble at the Mannes College of Music, and conductor of the New York New Music Ensemble.  He is Guest Conductor of the Slee Sinfonietta at the Institute for 21st Century Music in Buffalo and also with Speculum Musicae and the Talea Ensemble. He has led concerts across North America, Europe, and Asia at festivals including the Beijing Modern Festival, Monday Evening Concerts, US Library of Congress, and the Transit Festival. He has collaborated with composers on hundreds of world  and American premieres including John Cage, Pierre Boulez, Earl Brown, Charles Wourinen, Mario Davidovsky, Hans Werner Henze, Roger Reynolds, Hans Abrahamsen, Milton Babbitt, Donald Martino, Elliott Carter, Stefano Gervasoni, David Felder, and George Crumb. An active composer of electro-acoustic music, Mr. Baker won a Bessie award for composition for dance. Past commissions include works for Dance Theater Workshop New York, the Lyon Opera Ballet and Netherlands Dance Theater with his longtime collaborator, choreographer Tere O'Conor and at EMPAC at Rensselaer Polytechnic Institute.

Talea Ensemble's 2011 concert with the ACFNY dedicated to the oeuvre of Olga Neuwirth was named one of the year's best by Artforum magazine:
<object width="450″ height="300″ data="http://www.youtube.com/v/PNkhzWcEBss?hl=en_US&amp;version=3″ type="application/x-shockwave-flash"> <param name="data" value="http://www.youtube.com/v/PNkhzWcEBss?hl=en_US&amp;version=3″ /> <param name="allowFullScreen" value="true" /> <param name="allowscriptaccess" value="always" /> <param name="src" value="http://www.youtube.com/v/PNkhzWcEBss?hl=en_US&amp;version=3″ /> <param name="allowfullscreen" value="true" /> </object>
The Talea Ensemble is supported by funding from the Ernst von Siemens Musikstiftung.
ABOUT THE SERIES
This event is part of the Austrian Cultural Forum's Vienna Complex Festival 2014. The ACFNY is partnering with New York's Carnegie Hall to present the large-scale Vienna: City of Dreams festival in Spring 2014. The Austrian Cultural Forum opens the mind and senses to Vienna today. Building upon the vast artistic, intellectual, and cultural legacies of Vienna in 1900, the ACFNY explores the vibrant creative fabric of the 'city of dreams' in the 21st century with a festival of contemporary music, a symposium, a film series, and a major visual art exhibition titled "Vienna Complex."
> More information: acfny.org/viennacomplex
VENUE
Czech Center New York at the Bohemian National Hall
(between 1st and 2nd Avenue)
321 E 73rd Street
New York, NY 10021