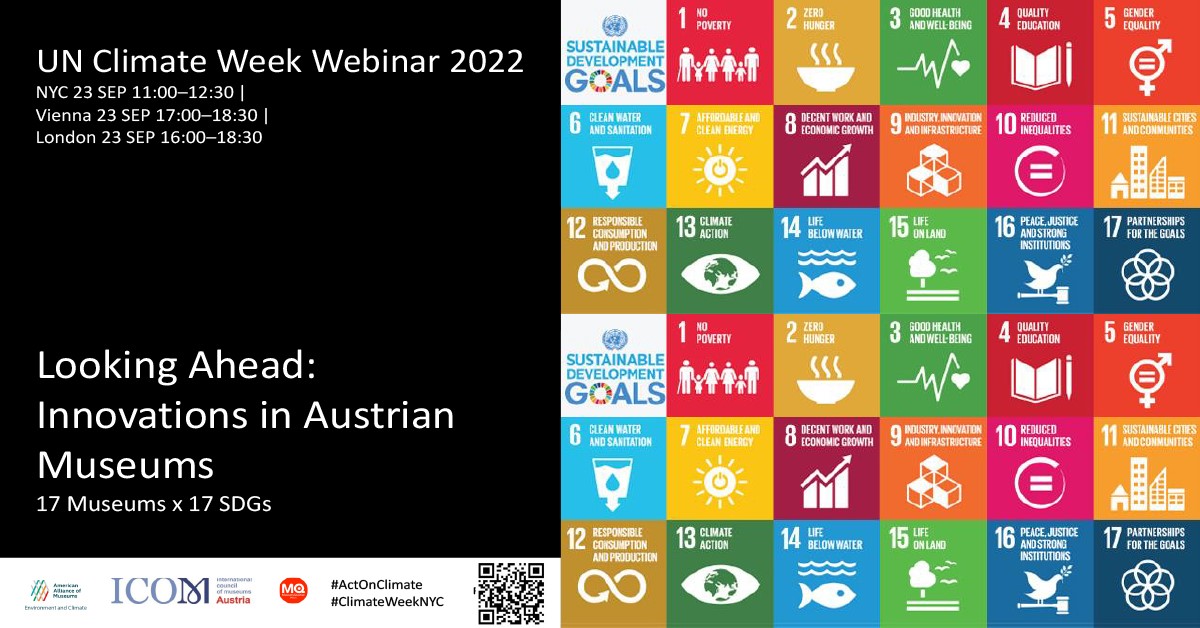 Webinar | Looking Ahead: 17 Museums x 17 SDGs Innovations in Austrian Museums
Image Credits: ICOM Austria
Friday, September 23, 2022 | 11 – 12:30 AM ET
Climate Week NYC provides a platform for organizations and individuals to come together for a sustainable, social and environmental transformation of our world, in line with the United Nation's 17 Sustainable Development Goals (SDGs).
Museums and cultural institutions can make a crucial contribution to the implementation of the SDGs, as the 17×17 initiative shows. Through art and culture, the initiative aims at awareness-raising and visibility, both internally with respect to the museum staff themselves and externally with respect to the public. It makes accessible to as many people as possible the vision of an optimistic future for all in the field of culture, since museums and art institutions are important societal actors with a wide impact. It strengthens relationships with internal and external stakeholders and communities through information, discourse, lobbying and a common language and aims.
To increase solution-oriented imagining on museum strategies for fostering environmental sustainability, the American Alliance of Museums (AAM) Environment Climate Network (ECN) is sponsoring this webinar in cooperation with the International Council of Museums (ICOM) Austria and the MuseumsQuartier Vienna.
Find more information and register for the webinar here here