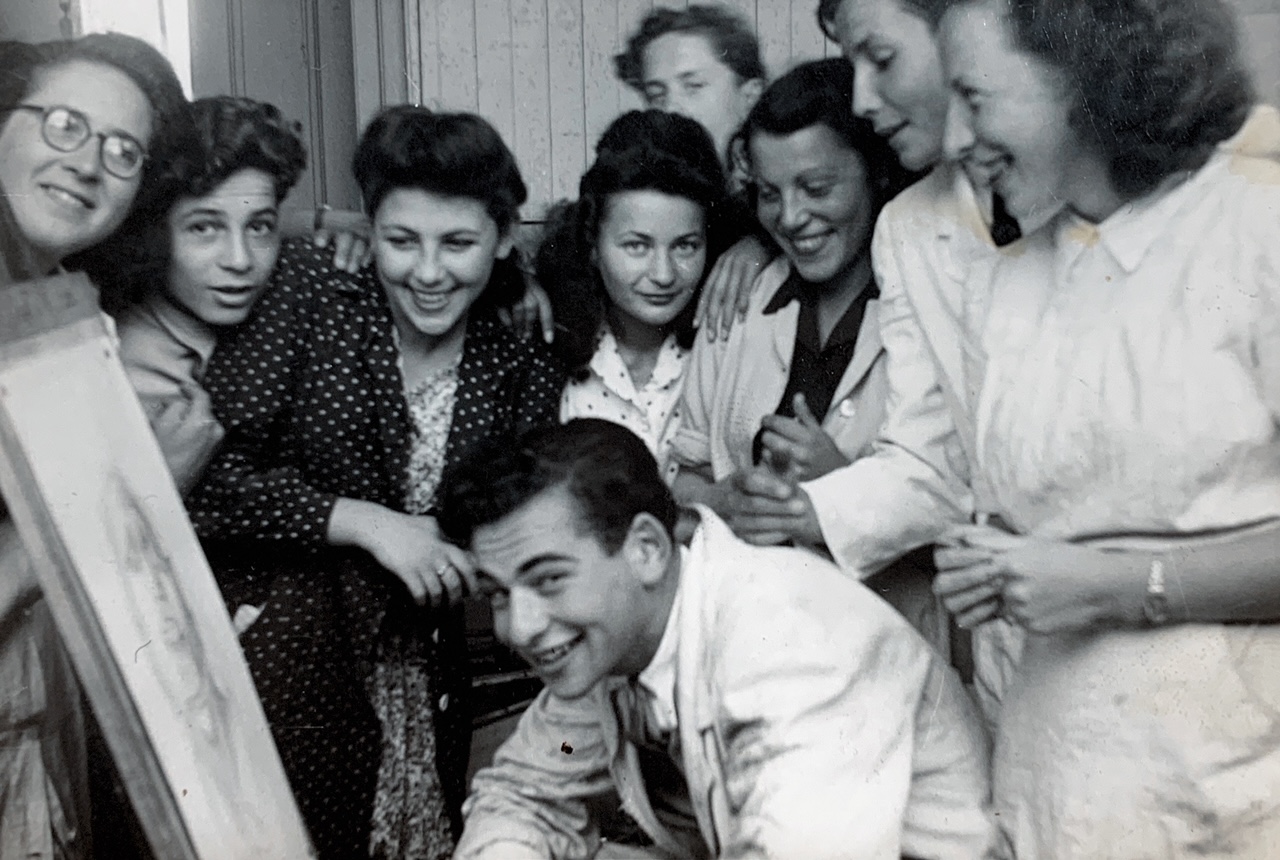 Exhibition Interview: Paul Peter Porges' Daughters Vivette & Claudia
August 10, 2021
On August 10th, 2021, be on the lookout on the ACFNY YouTube channel for our exclusive interview with Paul Peter Porges' daughters Vivette and Claudia. The interview gives a very special and personal insight into their father's life and work, and features never seen before photos and artworks.
ABOUT THE ARTIST
Paul Peter Porges attended classes conducted by Franz Čižek for children at the Vienna School of Applied Arts. In 1939, he was put on a children's transport to France. He and dozens of refugee children lived in La Guette, a property in the French countryside that had been transformed into a progressive school structured as a "Children's Republic." When Germany invaded and after a period on the run, Porges was interned. Nevertheless, at age sixteen, he escaped, made his way to Switzerland, and continued his studies in Geneva.
By then a talented graphic artist, he reunited with his parents and brother in New York in 1947. After a period of traveling the country with a circus, he joined the U.S. Army where he created a popular comic strip published in Stars and Stripes. He went on to produce cartoons for the Saturday Evening Post, Playboy, New Yorker, Look, and other national magazines. At Mad magazine, he drew satirical caricatures and developed subversive content. The range of publications attests to his creativity, sly humor, and versatile practice.
ABOUT THE EXHIBITION
The "three with a pen" are connected by the same fate. Growing up in Vienna, all three artists already had a passion for drawing at a young age. As Jews at the time of the so-called "Anschluss", they had to leave their hometown and found success elsewhere. The three artists depended on their drawing pencils as armor for survival and the means to make a living.
Lily Renée (born 1921) drew superheroine comics in the U.S., worked as a freelance artist, and designed children's books, among many other accomplishments. Bil Spira (1913-1999) was a portraitist, caricaturist, and gifted counterfeiter who helped many people persecuted by the Nazis find their way to freedom. Paul Peter Porges (1927-2016) made it to the big arenas for cartoonists in the U.S., working for publications such as The New Yorker and Mad Magazine. This exhibition illuminates the lives and practices of these three highly creative individuals who wielded mighty pens.
Learn more about the artists, view installation photos, and more here.
Image credit: Private collection of Vivette Porges and Claudia Beyer