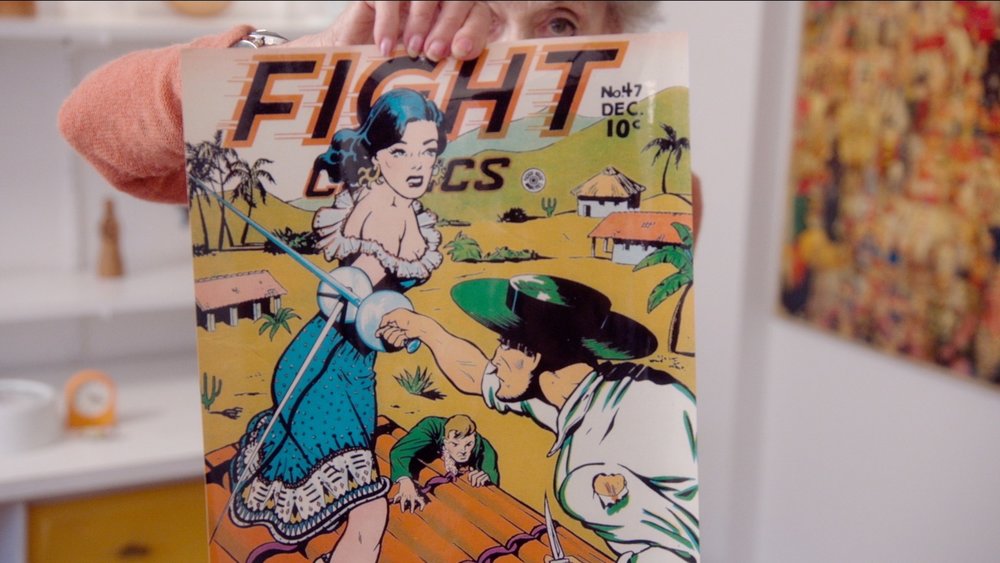 "Lily" Screening in Celebration of Lily Renée's 100th Birthday
In a special event celebrating the ACFNY's featured artist of Three with a Pen, join us for an exclusive online screening of Lily (2019), a documentary highlighting the inspiring life and times of comic book pioneer Lily Renée. Director Adrienne Gruben and her film crew followed Renée for 5 years, creating an intimate portrait of the first female comic book artist and her journey from Nazi-controlled Austria to New York's Golden Age of comics. For 48 hours, ACFNY followers will be given access to this film on the ACFNY YouTube channel via a link that will be made available here starting May 12.
SYNOPSIS
Artist, fugitive, trailblazer…the incredible true story of Lily Renée, who escaped Nazi-occupied Vienna as a teenager, and went on to become one of the true pioneers during the Golden Age of comics.
Run time: 26 minutes
ABOUT LILY RENÉE
The only child of a well-to-do family, Lily Renée Willheim discovered drawing early, creating opulent fantasy worlds with mythical creatures. As a result of the so-called "Anschluss", her father lost his job, her school friends were no longer allowed to play with her, and, like many, the family endured a variety of hardships. In 1939, at age seventeen, her parents put her on a children's transport bound for England where she briefly stayed with a British family.
She reunited with her parents in New York City in 1940, where she lives today. After studying at the Art Students League and School of the Visual Arts, she was hired by comic book publishers. An exception in the male-dominated field, she created illustrations for several comic books including Señorita Rio, a glamorous Brazilian secret agent fighting the Nazis, the comedy duo Abbott and Costello, and others. Her later works include children's books, decorative motifs, and textile designs. In 2007, Lily Renée attended Comic-Con in San Diego to receive their Inkpot Award and was inducted into the Hall of Fame of Friends of Lulu, an organization promoting women in comics. She celebrates her 100th birthday this year.
ABOUT THE DIRECTOR
Filmmaker Adrienne Gruben, in her first foray as a documentary director, spent five years working to bring Lily Renée Phillips' story to light in her film Lily. Ms. Gruben has already amassed an impressive independent filmmaking career that spans 20 years. Her producing credits include "Treasure Island" (Sundance Special Jury Prize Winner, 1999), "Running With The Bulls" (IFC comedy special, 2003) and "You're Gonna Miss Me" (Independent Spirit Award Nominee, 2007), a documentary exploring the life of legendary musician Roky Erickson. In 2017 she directed a drag queen variety Christmas special for OutTV Canada. Outside of independent film, Ms. Gruben has worked on the international marketing campaigns for films like "Captain America: The First Avenger," the "Mission: Impossible" sequels "Rogue Nation" and "Fallout," "A Quiet Place," and the Elton John biopic "Rocketman."