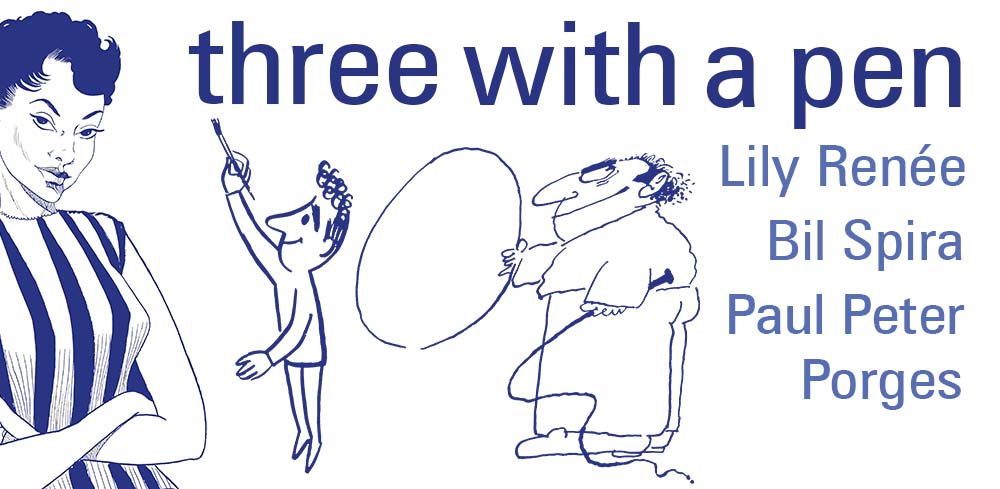 THREE WITH A PEN CLOSING PANEL DISCUSSION
September 1, 6-9 PM ET
6:30 PM Introduction & Panel Talk
On September 1, the ACFNY hosted an evening celebrating the lives of three inspiring artists who wielded mighty pens. The panel discussion is now available to watch below:
VISITING US SAFELY
We kindly ask that you wear a mask covering both mouth and nose at all times within the building.
Please note, as per the New York City Covid-19 Executive Order 225, proof of vaccination, as well as an I.D., will be required upon entry. Proof of vaccination may include a CDC Vaccination Card, an NYC Vaccination Record, NYC Covid Safe App, Excelsior Pass, or an official immunization record from outside NYC or the U.S., showing proof of receipt of at least one dose of a COVID-19 vaccine authorized for emergency use or licensed for use by the U.S. Food and Drug Administration or authorized for emergency use by the World Health Organization.
A coat rack area will be available for guests to leave their jackets and umbrellas.
ABOUT THE PANELISTS
MODERATOR
Mimi Bluestone is a journalist and educator. She is a founder and co-leader of 350Brooklyn, a local affiliate of the international climate organization 350.org, and leads the group's Climate Idea Exchange.
PANELISTS 
David Armstrong has been involved with the feature film and television production and distribution businesses for over fifty years. As a comic book historian, he was the contributing editor of the definitive three volume IDW book series on Alex Toth and curator of the comic archive stories in "DC Comics Before Superman: Major Malcolm Wheeler-Nicholson's Pulp Comics." Armstrong is the co-producer of an animated pilot for Frank Cho's "Liberty Meadows," and the Executive Producer of "Lily," a documentary about the pioneering comic book artist, Lily Renée.
+++
Bob Mankoff is the former cartoon editor of The New Yorker magazine as well as a cartoonist for that publication where over nine-hundred of his cartoons appeared. He is now president of cartoonstock.com, the world's largest database of cartoons as well of Air Mail, an online magazine edited by Graydon Cartoon.
+++
David Nelson was born in Malaya in an army family and spent most of his childhood in Germany and Libya before settling to England in 1956. There, he studied History of Art and Television Techniques. He went on to work for the BBC in television production before becoming an independent producer. After later work for a charity helping new immigrants to the UK, he came to the USA with his wife in 2013. He is now engaged in Holocaust Education with the Holocaust Museum and Cohen Education Center and also on the board of the local Genealogical Society where he researches family trees and creates ancestry history books.
+++
Trina Robbins is an award-winning writer and retired cartoonist who has been creating books and comics for over fifty years. Since the mid-1980s, she has been writing about and rediscovering previously forgotten early 20th-century women cartoonists such as Nell Brinkley, Ethel Hays, and Lily Renée. Her graphic novel, "Lily Renée, Escape Artist" has won awards and can be purchased at the Holocaust Museum in Washington, DC. In 2013, Trina was inducted into the Will Eisner Comic Book Hall of Fame.
ABOUT THE SHOW
On view through September 3, Three with a Pen: Lily Renée, Bil Spira, and Paul Peter Porges feature work by three Jewish artists driven from their homes in Vienna after the German annexation of Austria, the so-called "Anschluss" in 1938. The exhibition showcases examples of their signature work in comic books, New Yorker cartoons, Mad magazine spoofs, caricatures, portraiture, fashion design, advertising, and children's books, among other formats. 
"We wanted to honor the works of art of all three artists, to show they were great artists, despite the fact that they were survivors," said Sabine Bergler, who co-curated the exhibit at the Jewish Museum Vienna with Michael Freund, in 2019.
"On the other hand, we wanted to show they were survivors too," said Bergler. "We tried to show the people behind the artworks, to see them each as independent artists, and how the Holocaust was the fate of their work." – 'They were survivors': the Jewish cartoonists who fled the Nazis, The Guardian
Three with a Pen illuminates the lives and practices of these three highly creative individuals who wielded mighty pens. Come by the ACFNY to see Three with a Pen while there's still time! This exhibition is open to the public daily from 10 AM to 6 PM with free admission.